12 Questions To Help You Choose The Right Event Technology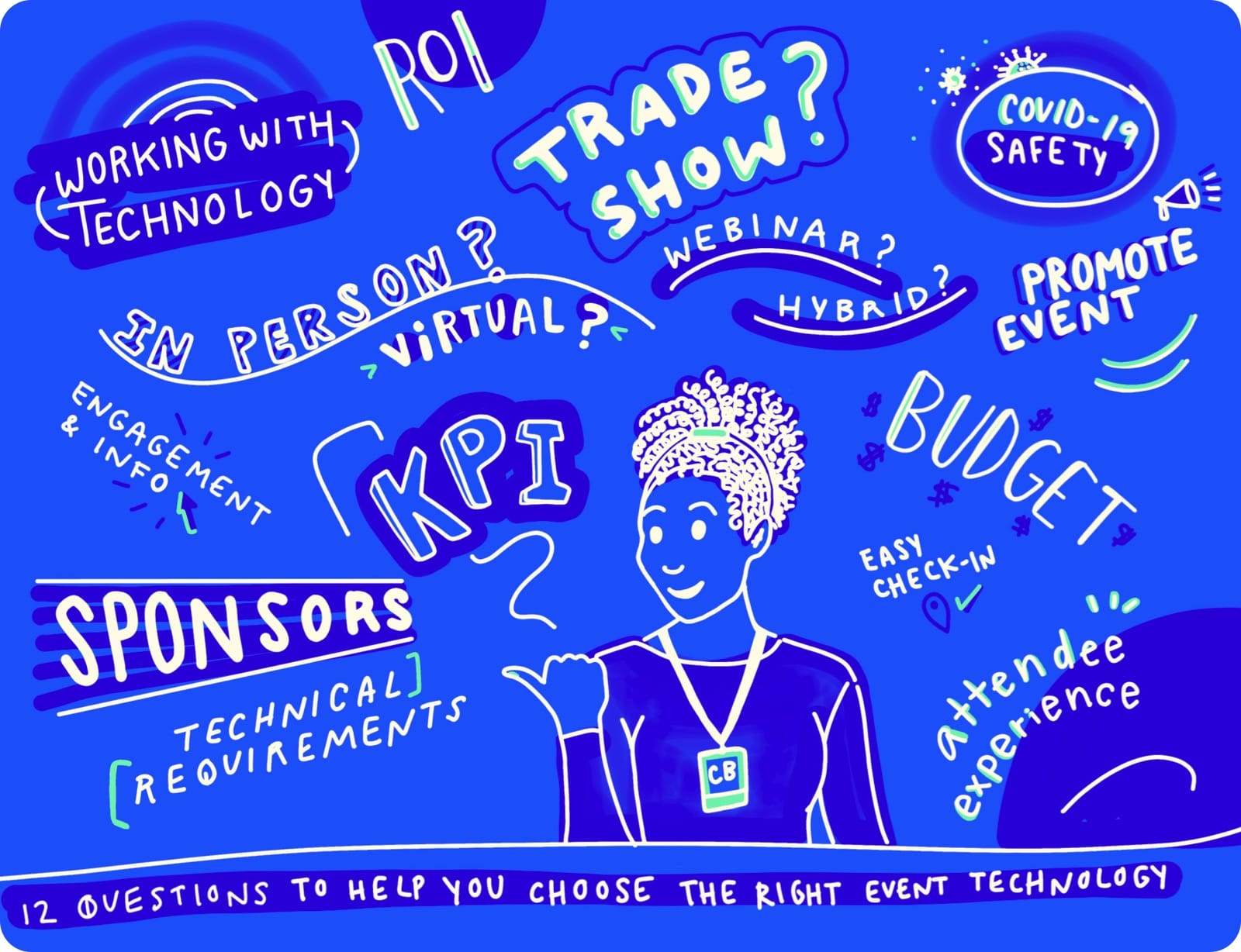 Artwork by Mónica Alexis
Shiny new tools for event organizers keep grabbing your attention.
The good news is that more tools than ever are out there to make your job easier and your attendees' event experience better.
The bad news is that, like many shiny new things, they may not be right for you.
So how do you separate the good, the bad, and the useless in event technology? Let's start with a definition.
What is event technology?
Event technology covers all the digital tools and machines that enable people in the events industry to make the planning and production of in-person, virtual, and hybrid events easier, faster, and more cost-effective.
Using the right technology the right way, you can benefit in the following ways:
Drive attendance
Engage better with attendees, in-person and virtually
Improve your service offer to exhibitors and sponsors
Manage costs more effectively
Prove event ROI
At the same time, the right technology enables your attendees to profit from a better event experience. Like consumers everywhere, they have higher expectations and want to do the following:
Enjoy a seamless experience at every touchpoint of your event.
Connect with other attendees through the engagement and networking tools you provided.
Navigate the event more easily through event apps that enable them to invest their time more wisely.
Examples of event technology
From the moment your event appears on a whiteboard to the time you share your post-event report, technology can help.
Depending on the depth of your pockets, you could work with any of the following tools, to name only a few:
Intuitive, end-to-end registration software
Event websites designed for easy use and registration
Event mobile apps that provide communications, information, and connection
Marketing platforms that empower planners to easily reach attendees
Floor-plan diagramming software to facilitate the optimal use of space
Event management software to simplify the planning and execution of events
Name badge creation software and printing platforms to simplify registration
As with any buying journey, asking yourself key questions before you set out will help maximize your chances of making productive and satisfying investments. We recommend asking these twelve.
1. What are your event goals and KPIs?
Like a carpenter's toolbox, event technology is only a means to an end. To clarify what tools will be essential to your task, you need to define your goals. At the whiteboard stage of your event, ask yourself the following questions:
What do you want this event to achieve?
How will event technology help you attain your goals?
How will you know you've reached your goals?
To answer the last question, you need to define the outcomes, metrics, or Key Performance Indicators (KPIs) that reflect a successful event. For example, you may want your event to do the following:
Meet financial goals
Increase brand awareness
Enhance customer relationships
Educate prospects
Build your pipeline of qualified leads
Generate sales
2. What type of event are you organizing?
Today's events come in a wide range of formats, sizes, and technical requirements. Consider these event options:
In-person — Even cavemen organized in-person events. Post-pandemic, the world has seen a resurgence of events that bring together anywhere from a dozen attendees to hundreds of thousands.
Virtual conference, trade show, workshop — Due to recent innovations in online technology, almost any event can now connect virtually and cost-efficiently with a great number of attendees.
Webinar — Whether taped or live, the webinar is a popular way to broadcast a structured presentation or informal discussion. The format also enables the audience to interact with the presenters through a chat function.
Hybrid event — This event offers both an in-person and virtual experience of the activities. Consider this finding from a 2021 survey of B2B and B2C marketers:
59% of B2B marketers and 60% of B2C marketers agreed or strongly agreed that their brands are going to continue to employ a digital strategy to maintain their virtual audience after they've returned to in-person events.
Event technology is the key to combining these two worlds. For example, an event platform that integrates with an in-person event app empowers everybody to access one platform for their event experience.
3. What is your budget?
Your budget is a major consideration for any event organizer. Unless you're planning a very small, simple event, you cannot use a shoebox and a notebook to track expenses, revenues, savings, and to prove ROI.
The right budgeting software offers you total visibility into all your costs, from the granular to the bird's-eye view. At the same time, your other teams, such as procurement and travel, can also access the numbers they need without any business function having to duplicate any data entry.
As a result, your business saves time on the administration of your event and everyone can focus on higher-value tasks.
4. What is your list of technical requirements?
Think of all the different cars that can get you from A to B. Similarly, event technology offers a range of options to help accomplish your goals. To avoid being overwhelmed by the options, you'll find it invaluable to draw up a list of technical requirements.
Sit with your power users and other stakeholders to create a master document of these requirements. In the discussions, separate the must-have features from the nice-to-have features. There may be heated debate about that triage, so buckle up for that.
The distilled results of this discussion should be formalized in a document of the technical requirements for your event. Use this document as your north star to navigate through all the shiny new tools technology vendors will try to dazzle you with.
5. How will you deal with COVID-19 safety?
COVID-19 is here to stay. Your first obligation, of course, is to comply with local public health regulations.
Given the state of vaccinations and the virulence of the virus, responsibility has largely shifted to the attendees. But if you need more help to control in-person contact, you can employ tools that facilitate the following:
Online registration
Event-wide communications through apps that enable instant distribution of information
Capacity management through time-slot management tools that stagger entry and control capacity at venues
6. How will you gain insight into the attendee experience?
Naturally, you're always on the lookout for ways to continuously improve your event KPIs and the attendee experience. Event technology can help you collect an unprecedented amount of data on a wide range of attendee activities.
For example, you can do the following:
Track when and who signs up for an event so you can understand traffic timing and volume, who your attendees are, and where they're coming from.
Observe how much time they spend at various locations, so you get an overview of what's appealing to your audience and what's not. At the same time, you can also provide guidance to your event team staffing those locations.
Quantify the networking of your attendees. Creating or reinforcing relationships with relevant parties is a key priority for many attendees.
Create an itinerary of attendee movement at your event. These "heat maps" of foot traffic can help you in planning future events.
7. Does the technology work for you or against you?
Ensure that your technology has the following qualities:
Reliability — Running an event is stressful enough without your technology failing at critical moments. Issues such as sluggish registration, unfriendly mobile apps, and inconsistent streaming services can taint your organization's brand and hurt turnout at future events. So ask about the technology's reliability. What level of customer support does the vendor offer in the case of equipment failure?

User-friendliness — This word is thrown around a lot by vendors. The best way to gauge user-friendliness is to invite your power users to a demo test. Have your team come up with the testing scenario and not the vendor. How intuitive is the interface? Does the feature set meet your needs?

Brandability — Your attendees should never forget this is your organization's event. So every touchpoint with the technology should remind the attendees of your brand.
8. What communications tools will you use to promote the event?
For the majority of B2B and B2C marketers, the biggest challenge is communicating with their target audience. To drive visibility, attendance, and engagement, you need targeted marketing campaigns and tools.
Depending on the complexity of your marketing, you may need to oversee activities such as the following:
Managing the content calendar for all your messaging
Tracking the approvals of your marketing content
Posting on social media to drive registrations
Creating and managing email campaigns to promote awareness and registrations
Updating websites and landing pages to reflect current messaging
Coordinating the participation of channel partners and sales teams that are promoting your event
Tracking ROI or providing analytics on your marketing efforts
Marketing platforms can centralize, simplify, and automate various combinations of these activities. Choose a tool that matches your needs.
9. Is your event check-in an easy, pleasant experience?
You only have one chance to make a first impression, so make it a positive one.
Think of the processes at the beginning of an event, such as check-ins and outs, walk-in registrations, fee collection, and name badge printing. Have you put in place technology or service providers who will contribute to a pleasant, frictionless check-in?
10. How will you keep attendees informed and engaged?
You may not have included a mobile event app as an option for your event. While budget and ROI are key considerations, you also need to ask yourself questions such as these:
Is the app for a one-off event, or do you foresee repeated usage for events ranging from small gatherings to days-long congresses?
What are the upfront, hidden, and lifetime costs of the app?
What feature set do you need?
When event apps are used thoughtfully, they can help you do the following:
Eliminate the need for printed brochures and schedules and thus help produce a more eco-friendly event.
Accelerate two-way communications between your team and attendees.
Enhance the attendee experience by providing a variety of helpful features, such as a personal schedule, interactive event maps, attendee messaging and networking, social media feeds and gamification, polls, feedback surveys, and more.
11. How can you help exhibitors and sponsors get the most out of their participation?
Your exhibitors and sponsors need to benefit from your event, of course, just as much as your attendees. These parties may have their own tools to collect leads and appropriate information ⎯ or they may not.
Based on your budget, you may be able to offer them a centralized data-gathering platform that will do just that.
Also, you may find it valuable to track which booths are the most visited and where the traffic is flowing on the floor. This information would enable you to make adjustments on the fly to help exhibitors who may be overwhelmed or underserved by traffic.
12. What reporting and tools will measure the success and ROI of your event?
On the one hand, today's event reporting and analytics technology can provide you with a level of precision and insight into the metrics of your event that would not have been possible ten years ago.
On the other hand, these tools can also deluge you with data.
That's why being clear about your goals and KPIs when the event is at the gestation stage is so important: that clarity helps guide you to the "need-to-know" data as opposed to the "nice-to-know," and thus saves you a lot of time and frustration.
Based on your criteria, event analytics can help organize the data, offer insights on the strong and weak points of your event, and highlight opportunities for improving outcomes, such as attendee engagement or sales.
Reporting on this data comes in standard and custom reporting options. Your needs will vary, of course, depending on the complexity of your event, your goals, and the number of business processes you want to highlight.
Asking the right questions simplifies your professional life
Innovative vendors will continue to dangle shiny new tools to help you organize your event in a more efficient way.
By asking the right questions upfront, you can avoid being dazzled by technology that's not right for you. Instead, you'll go a long way to equipping your team with tools that will help create dazzling, low-hassle events.