The Ultimate Guide To Creating A Smooth And Stress Free Conference Check In Process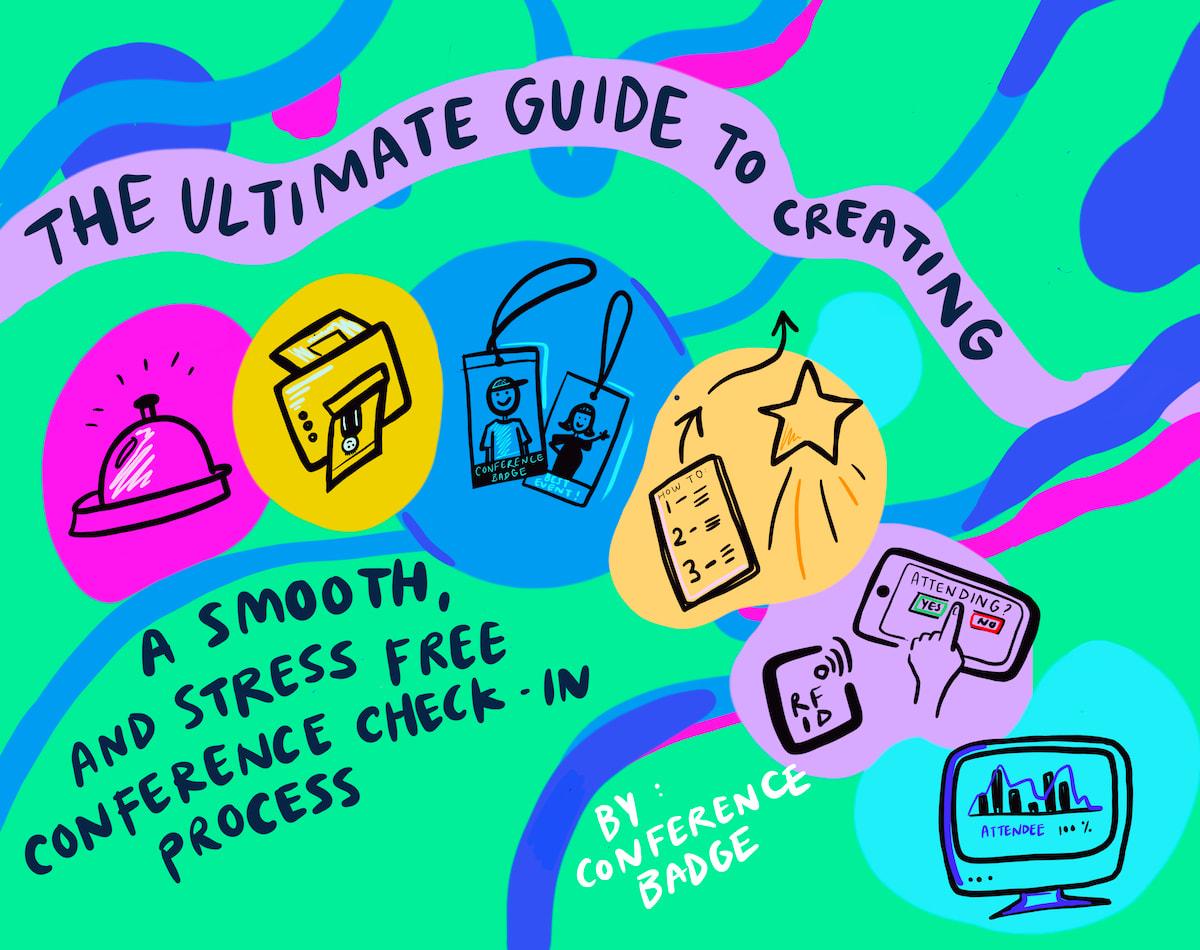 Artwork by Mónica Alexis
Check-in processes are the first in-person impression you make for your attendees; they can set the tone for the event. A seamless and stress-free check-in experience helps attendees feel welcome, prepared, and excited for the rest of the event.
On the other hand, a disorganized and chaotic check-in process like hold-ups, lines, or fumbling around for name badges can lead to frustration and negative first impressions.
Follow these tips to create a seamless and stress-free experience.
1. Choose the right check-in method
The check-in process can be done in various ways, from traditional paper-based methods to self-check-in kiosks. Each method has pros and cons, so consider your event needs and attendee preferences when making your choice. Digital check-in systems can streamline the process, reduce wait times, and provide real-time attendance tracking, but they can be more expensive—many apps to check out, like Eventbrite, Cvent, etc.
2. Determine how to hand the attendees their conference badge
Choosing the best way to distribute conference badges for an event depends on various factors, such as the size of the event, the resources available, and the overall attendee experience you want to create.
Here are the two most common methods for giving attendees their conference badges:
On-site printing
On-site printing provides a more personalized experience, as attendees can have their names and other information printed on their badge in real-time, significantly streamlining the check-in process and reducing wait times for attendees. Instead of having to pre-print and distribute badges before the event, on-site printing allows attendees to check in and have their badges printed on the spot. For small to medium events, you can use a tool like Conference Badge, which will enable you to fully customize your name badges and get a PDF document, perfect for printing out during the event day. In addition, you can make last-minute edits, which allows for better flexibility.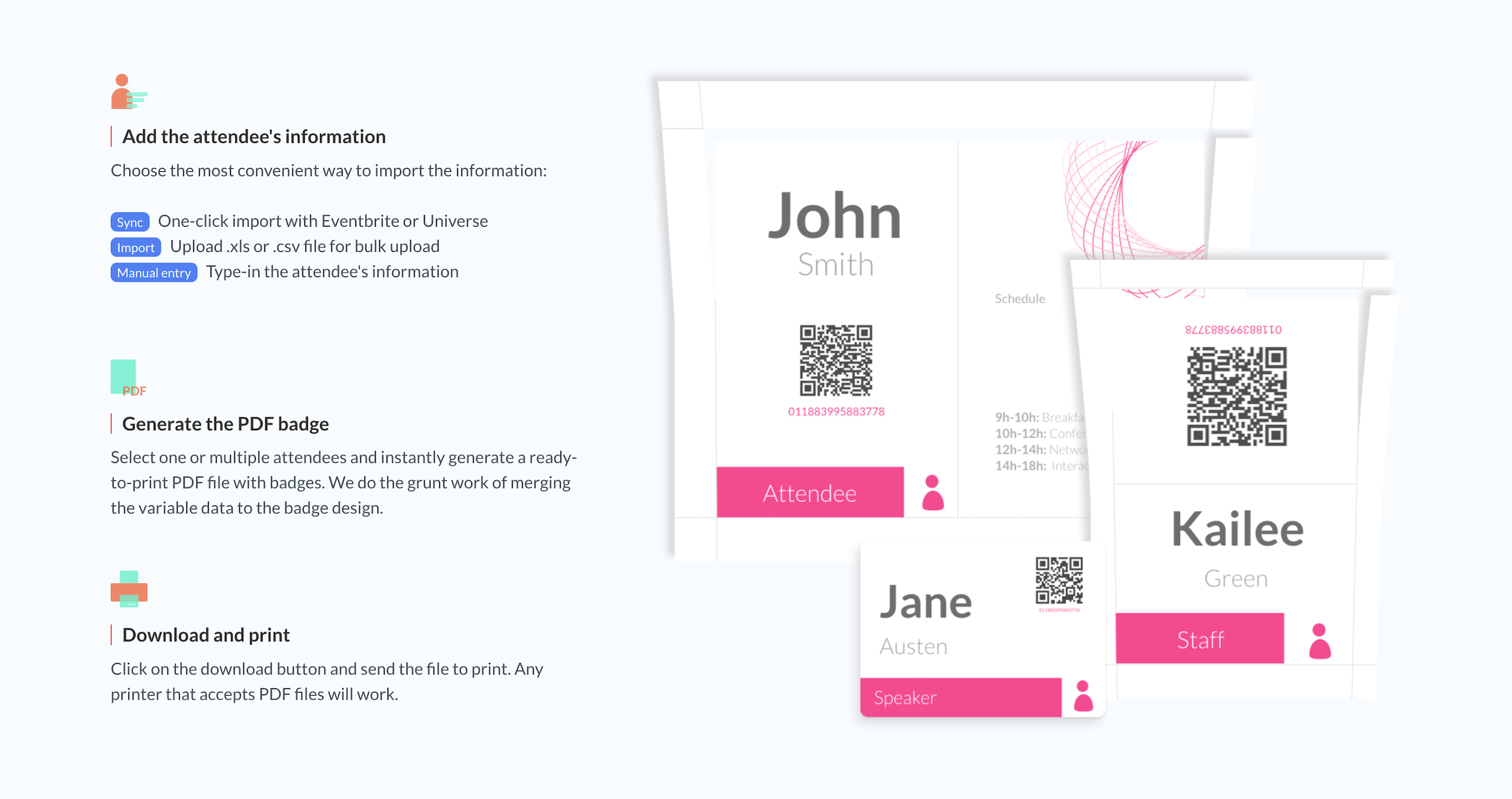 Pre-printed name badges
While on-site badge printing can provide many benefits, there are also some potential disadvantages. One potential drawback is that on-site printing requires the necessary equipment and supplies, such as printers, badge stock, and ink or toner cartridges, which can be an additional expense for event organizers. Conference Badge allows you to create your badges in advance by importing a CSV or Excel file and personalizing the badges to your event. Then, you can have them print out your badges, add extras like a plastic insert or black lanyard, and get it shipped to you before the event.
This method is great when your event online registration is complete and you already know who's attending.
3. Communicate clear instructions and expectations
Before the event, communicate clear instructions and expectations regarding the event check-in process. To attendees
Provide detailed information on check-in location, time, and credentials. This can simplify the process and avoid queues. Use social media to remind attendees of the check-in process updates. If you used Eventbrite for your event management, you can email all attendees with the details.
To vendors/exhibitors
If you are hosting a trade show or planning on having exhibitors, they might need other badges or check-in. Ensure you have the name and contact info to avoid angry vendors being unable to get their proper credentials. It could be a great idea to have different types of badges for vendors, speakers, or staff, and if you have them ahead of time, distribute them before the day of the event so they can just walk in without hassle.
To the event planning team
Ahead of the event, ensure your team and event planners are all on the same page regarding crucial information about the check-in process. For example, who will work the door, take care of the check-in, print badges and help attendees find their way? Before the event, everyone should know their role during the big event to make it run smoothly.
4. Use technology to streamline the process
By leveraging technology tools and platforms, event organizers can create a more engaging, memorable, and successful event experience for attendees.
There are tons of event management software, including event check-in-app, online registration, and event marketing. Using event technology for your events can help reduce the risk of errors or inaccuracies in attendee information and improve attendee data collection and analysis. With tools such as mobile check-in mobile apps or RFID technology, organizers can collect real-time data on attendance, engagement, and other metrics, which can be used to optimize future events.
5. Monitor and analyze
After the event, take time to analyze the check-in process and gather feedback from attendees. For example, you could send out a post-event survey to collect data, identify improvement areas, and implement changes to ensure a smoother check-in experience for future events.
The check-in process is critical to a successful event. While your event size, requirements, and budget will undoubtedly play a significant role in determining your approach, it's important to remember that your choices will also impact your attendees' reactions and level of engagement.
Conference Badge offers an easy-to-use badge creator to take your event to the next level. Try it today!