Impress Your Upcoming Event Guests With These Four Name Badge Templates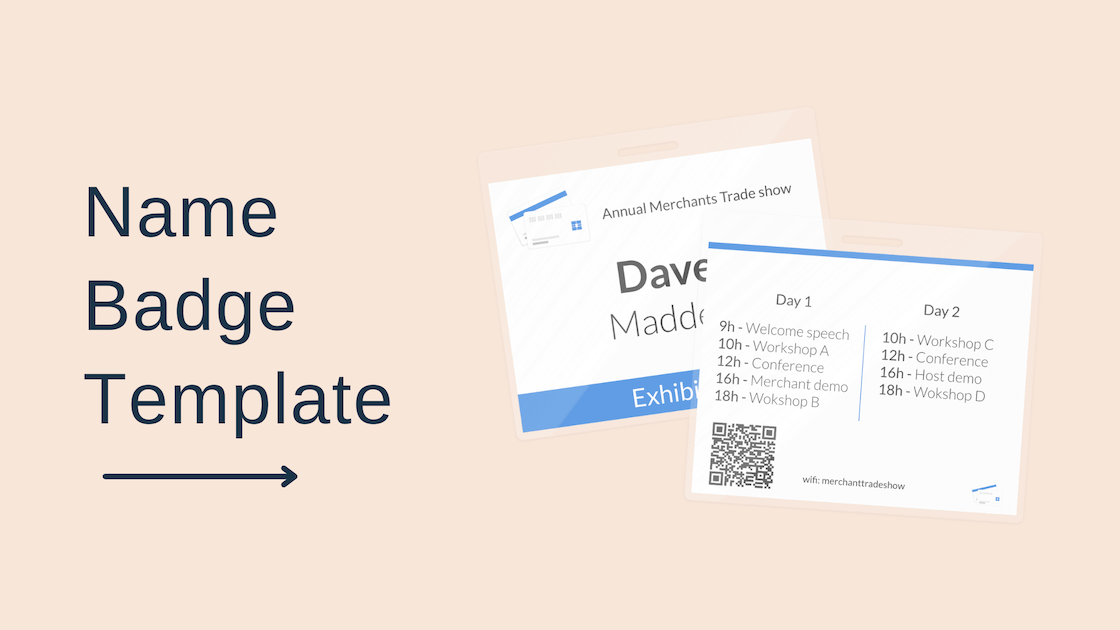 You've been tasked with creating name badges for an upcoming event and don't know where to start? Look no further. We've got name badge templates that are fully personalizable and can adapt to any event.
Name badge templates you should use for your next event
Conference badge offers many different eye-catching, editable, and printable templates. You can start by selecting a theme and if you're unsure, you can switch to a different theme at any time during the editing process. Of course, you can always start from a blank name tag, but where's the fun in that?
Here are four templates you can use in our editor.
1. Conference name badge
This conference theme can easily be duplicated and used for different types of badges. By editing the badge type, you can create your speaker, attendees, staff, volunteers, and partners badges from the same template. This can be done automatically if you have a spreadsheet or your event is hosted on Eventbrite.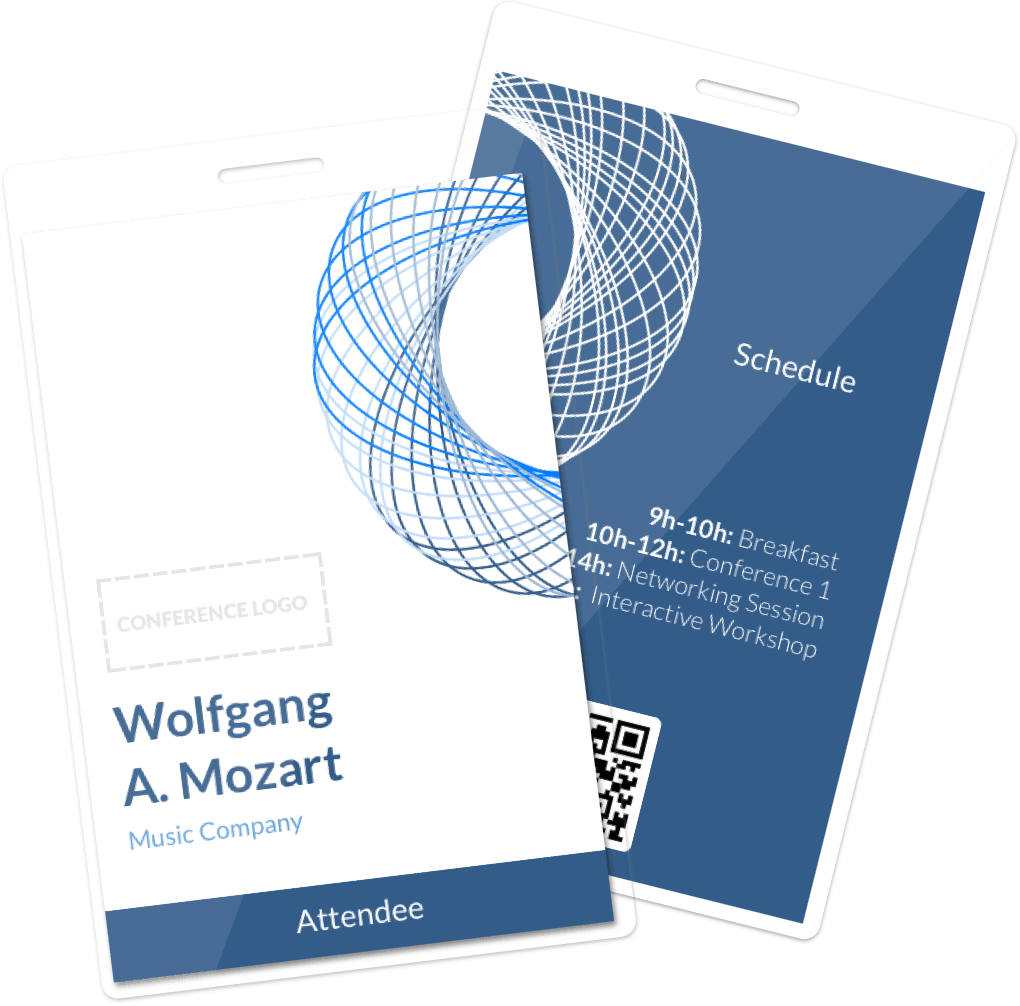 Information on this badge could include the conference logo, name, job title, a QR code that brings the user to a website faq, app, schedule, etc. You can also use this theme front and back to add more information.
2. School event name badge
Instead of the dull 'Hello my name is,' start with a fun, colorful template for your school-related event. Use adhesive badge labels, this budget-friendly option is perfect for short and informal events. You can edit everything from colors, backgrounds, add a picture, etc. Let your attendees use it as a photo ID badge for people to identify each other quickly.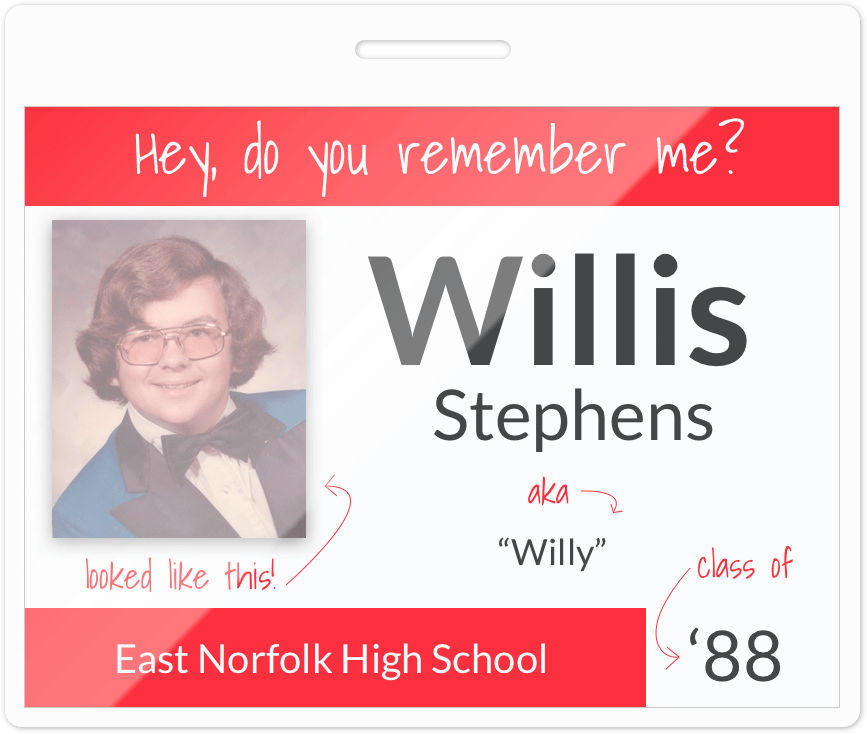 3. Business card name badge
Custom name tags can be used as a business card in a work-related event. Make sure the logo and the badge holders' names are displayed clearly on the front of the badge. Why not add fun conversation starters like 'Ask me about ______' or even social handles?
4. Trade show name badge
In trade shows, providing your attendees with networking opportunities is crucial. Event badges can be a conversation starter, so they must be used properly. One idea is to use different colored badges for people exhibiting vs. regular attendees. Also, don't forget to showcase the company logo and contact info.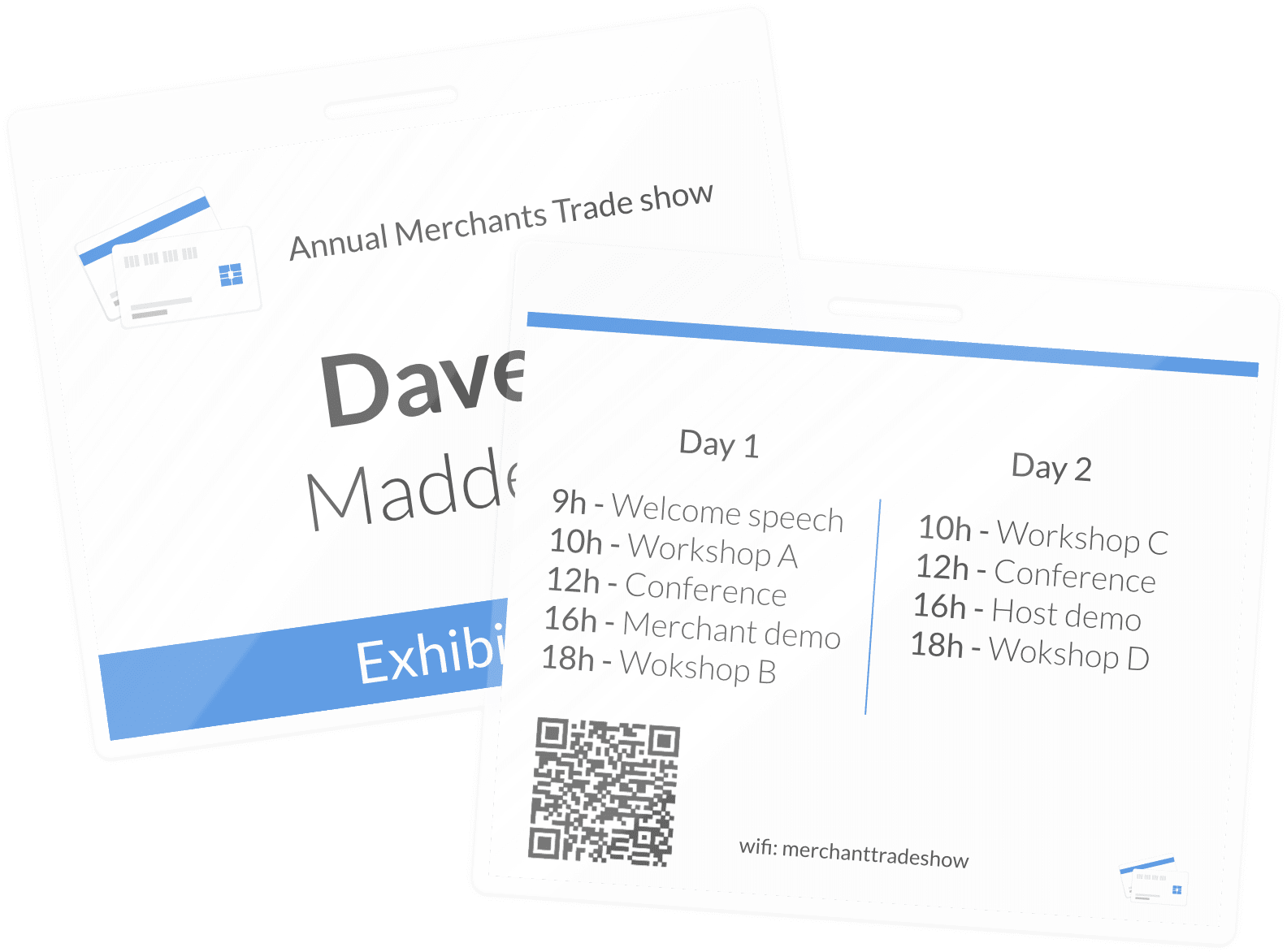 How do you create a name badge?
After you sign up or log in to Conference Badge, you will first be asked to upload a spreadsheet or connect your Eventbrite account if you're hosting your next event with them. This will help you save time by importing and adding the data directly to the badges.
Then, the Conference badge's editor allows you to customize the badges to your liking: font, visuals, and text. You can also choose to get custom-sized name badges by clicking on PDF Name badges and entering the desired width and height.
You can print the badges yourself beforehand by downloading a PDF document. You will also get access to the print screen, where you can create badges for last-minute attendees and use the on-site badge printing feature to print them on the spot.
The second option is to use our print-and-ship services, which include printing, cutting and assembling into plastic card holders and optional black lanyards. The production time is two business days plus shipping. You can get overnight shipping for a fee, or two business days for free.
Advantages of using Conference Badge
If you are hell-bent on using Microsoft Word, feel free to use our free printable name tag templates. You can edit the information on the badges and print them yourself before the event. But, if you want to use a more powerful editor that offers more features, we highly recommend using Conference Badge.
Here's why:
More customization options
Conference Badge's editor offers better customization options like adding logos, QR codes, or background images, and changing themes as you go. You can also create different designs for different attendees, and all progress is saved automatically.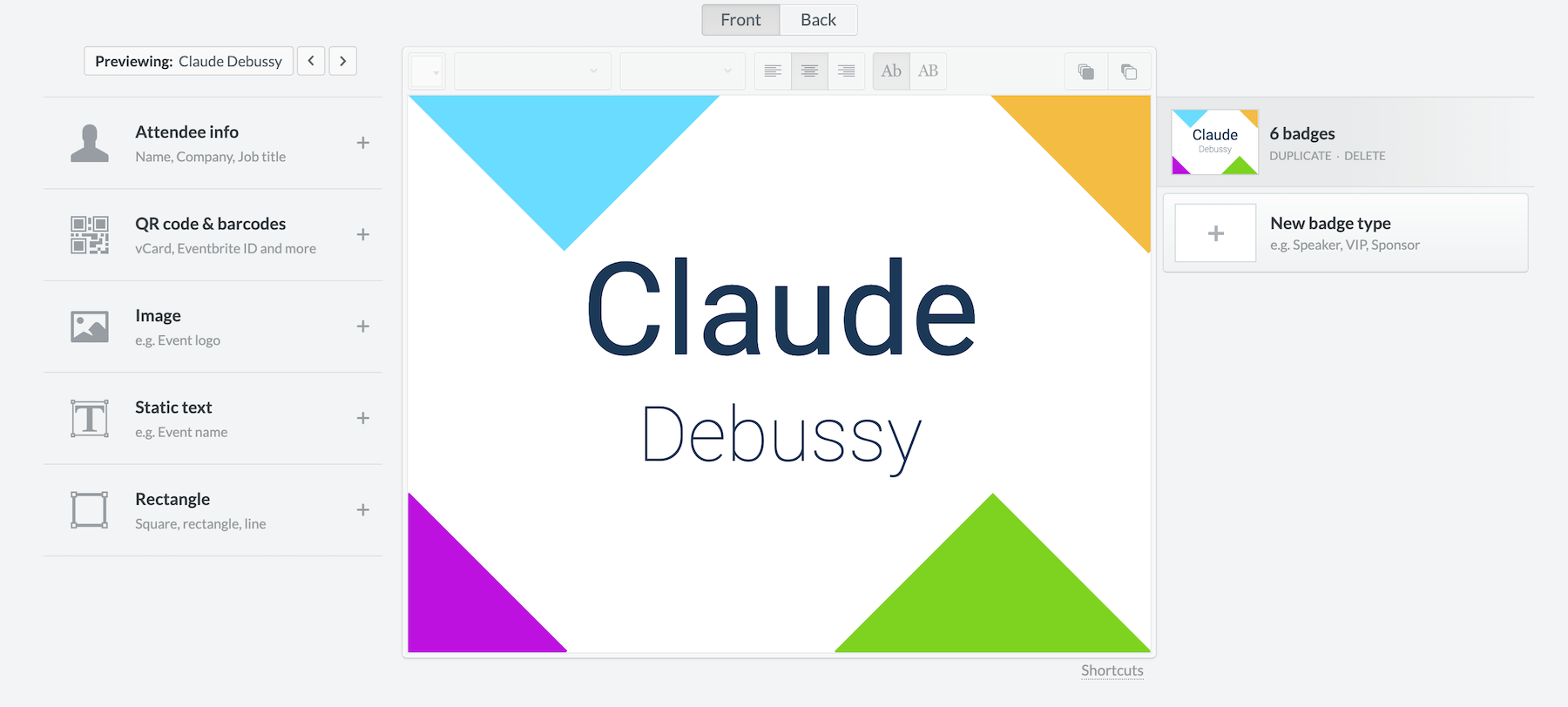 Easier configuration
Instead of manually editing each badge, you can connect a google spreadsheet or your Eventbrite event. The variable data, like the name, business name, and job title, will be imported and added to the badges directly.
No fuss printing options
Leave the printing and assembling hassle to us. We can print the badges and ship them directly to you. This option includes plastic name badge holders and pre-printed inserts. Optional black lanyards are available as well.
Try it for yourself today!