Québec Numérique
Case Study



How Semaine numériQC's team saved 28 hours of work.
3 min read
Cover photo by André Olivier Lyra
Q
uébec numérique is a Canadian non-profit organization that produces annual tech related events, like the Web à Québec and Semaine numériQC, which this year hosted over 18,000 attendees in the span of 10 days. It's been referred to as the South by SouthWest (SXSW) of the North.
Before using Conference Badge, they used the old method of creating badges. Basically they would get a local print shop to do the job, which carried a big constraint because of printer's long 3 week processing time. All event managers know that having your finalized guest list weeks prior to the event is almost impossible.
The solution
This was not ideal for Martin, Québec numérique's Head of Operations, because around 30% of the attendees register after that 3 week deadline. He and his team ended up having almost a third of the badges not looking professional. Attendees would get a blank badge and they would handwrite their names with a marker, this wasn't on par with the level of quality they proposed. It was unacceptable.
"And then I heard about you guys, and I said, cool! Someone who specializes in creating badges, that's interesting!"
Just for planning the badges, making sure the printer has the right names, in the right order, size, he says he saves at least 10 hours. If he includes the shipping of the badges to the attendees, Martin save two whole days of work. And for on-site printing, he isn't sure about how much time he saves, but he says his stress levels are way down.
Work load
Peace of mind
Martin currently handles registration with Eventbrite. Conference Badge offers a seamless integration with this event management platform, which adds up to the overall convenience of our service. He also seems to enjoy the short turnaround time.
"To get the badges delivered to my office just 2 business days after placing the order is incredible to me!"
Experienced event managers like Martin have many things going at the same time and last-minute issues that require his attention always arise, so knowing that he doesn't have to worry about his badges gives him a great peace of mind.


On-site printing

In addition to the printed badges, Martin leverages the on-site printing solution we offer to create additional badges for last-minute attendees in a matter of seconds by using a standard printer. These badges and the preprinted ones are not different in the attendees eyes, most importantly nobody has to handwrite their name and this is key in maintaining a professional consistent image through the event.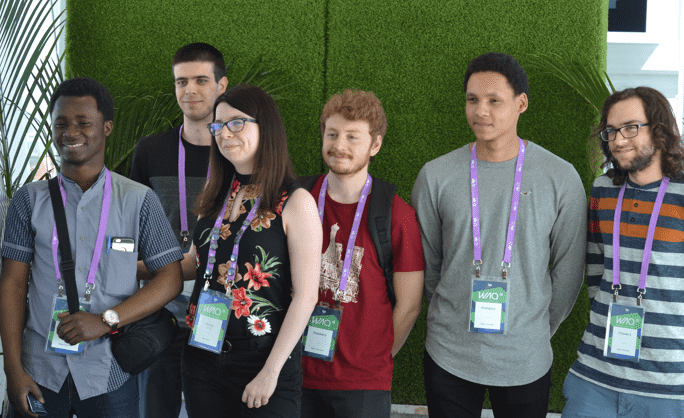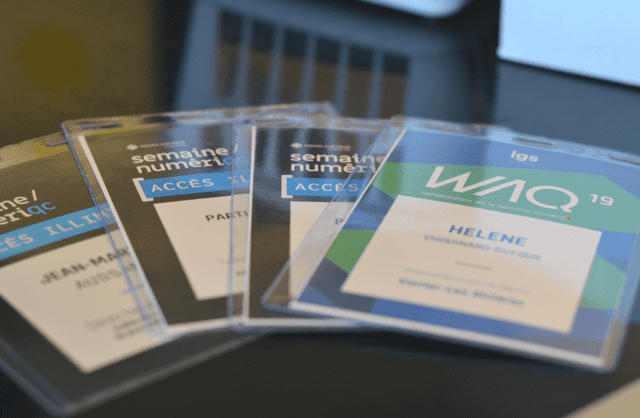 6"x4" printed name badges
On-site and pre-printed badges
Going the extra mile

The Semaine numériQC event is hosted at a very nice venue facing the St. Lawrence River, but the entrance hall can be a little small for doing a full on-site printing of the badges or giving them away one by one, which could lead to long lines to access the event.

So we worked with Québec numérique to solve this problem by mailing a considerable chunk of badges directly to the attendees' homes or offices.

Although it isn't part of our regular offering, we arranged this special service because we always strive to meet our customers' needs to the best of our abilities
"It's simple, flexible and fast. All the ingredients sought after event managers, that's why I like doing business with you"