A Complete Guide To Creating Custom Event Badges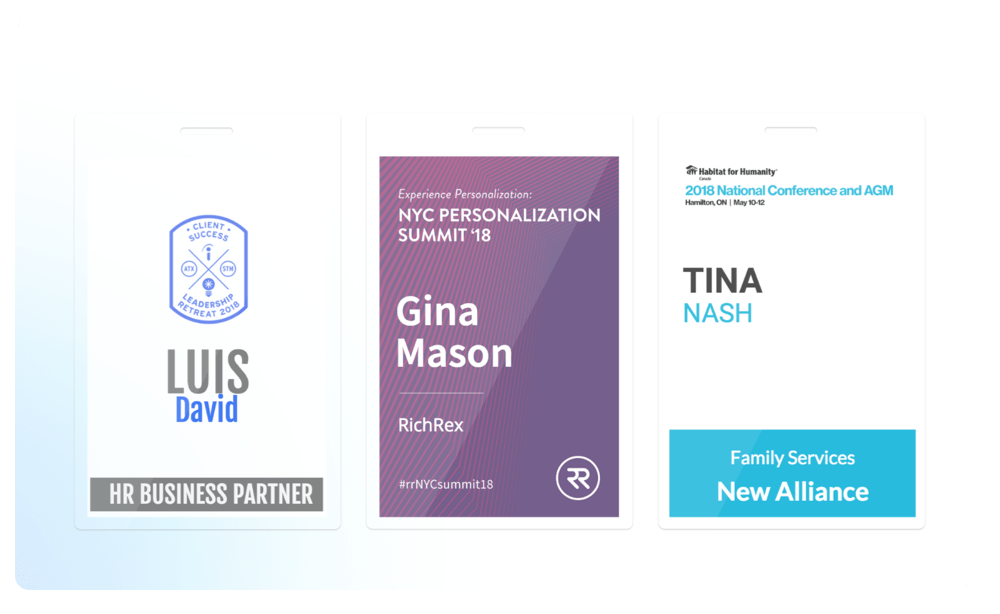 Tired of boring black and white event badges?

Yeah, us too.

As name tags are often used for networking purposes, you want to make sure you provide your attendees with the best out there. Whether you need custom event badges made for a trade show, a conference, a backstage pass, or VIP badges, this guide provides you with the benefits and how to create them easily.
What are event badges?
An event name badge consists of a badge displayed around the neck or on clothes with the attendee's name and additional helpful information, like the job title and the event organizer's logo. A personalized badge with the badge holder's name and other important information can be a solid conversation starter.
Custom event badges: best practices
Creating perfect custom event badges doesn't have to be complicated; in fact, it should be easy. However, before we get to the creation process, here are some best practices to keep in mind.
Start with a preset template or get some inspiration online
Unless you have a clear idea of what your badge should look like, you can always get inspired with a template and work from there. You can also get inspiration from Pinterest, other conferences or event websites.
It's important to emphasize that while you can get inspiration from other events or social media, your event badges should be unique and perfectly tailored to your event.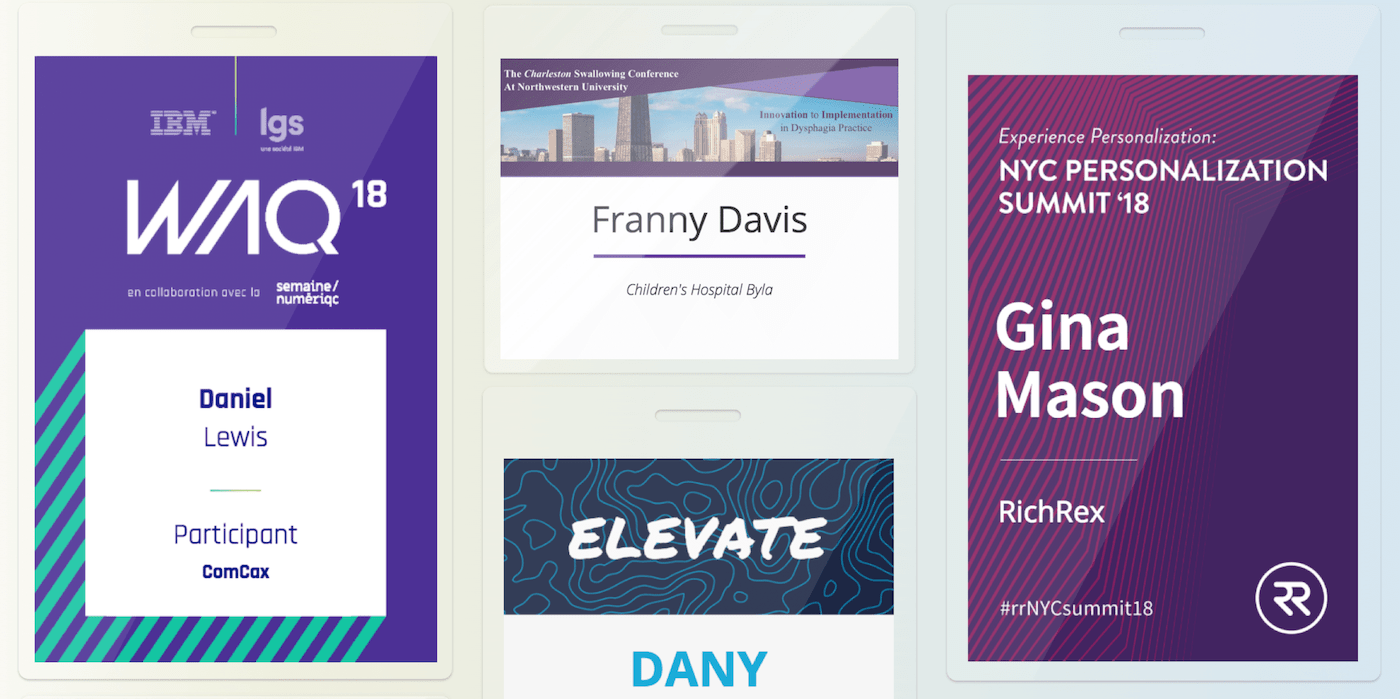 Focus on the design
An event ID badge can act as a business card or a promotional product for your event; therefore, paying particular attention to the event badge design is crucial. When creating your badge, you should opt for a readable font, a relatively simple but unique design, and draw attention to important information, as you don't want to shift focus from the attendees' details.
Add a QR code/barcode
If only there was a way to get instant attendees' feedback while attending the event.
Oh wait, there is! This can be done by adding a QR code or a barcode to the conference badge, which can be used for many different reasons. For example, they can redirect attendees to a survey, the event schedule, your social media or a website, and even serve as event tickets.
Get them done ahead of time
With everything else that must be planned, event badges are probably low on your checklist, but they are essential. Of course, you want to get them done in advance, but you also want to add participants' information, and people tend to register late.
Rule of thumb
You should aim to create them at least a week in advance unless you plan to print them yourself. This also depends if you send them out by mail to participants or plan to distribute them at the event.
Create different kinds of badges
Creating different event badges for different categories of attendees can help distinguish different event pass types. In addition, it allows participants to find other participants, speakers, VIPs, volunteers, or staff.
How to create custom event badges with Conference Badge
Now that you have all the tips and tricks to create the best event badges, let us introduce you to the best tool: Conference Badge.
In 4 simple steps, you can create, design, and receive (or print!) your event badges.
1. Create an account and import your attendee information
When you sign up, you will first be asked to upload a spreadsheet or connect your Eventbrite account if you're hosting your next event with them. After that, the variable data, like the name, business name, and job title will be imported and added to the badges directly.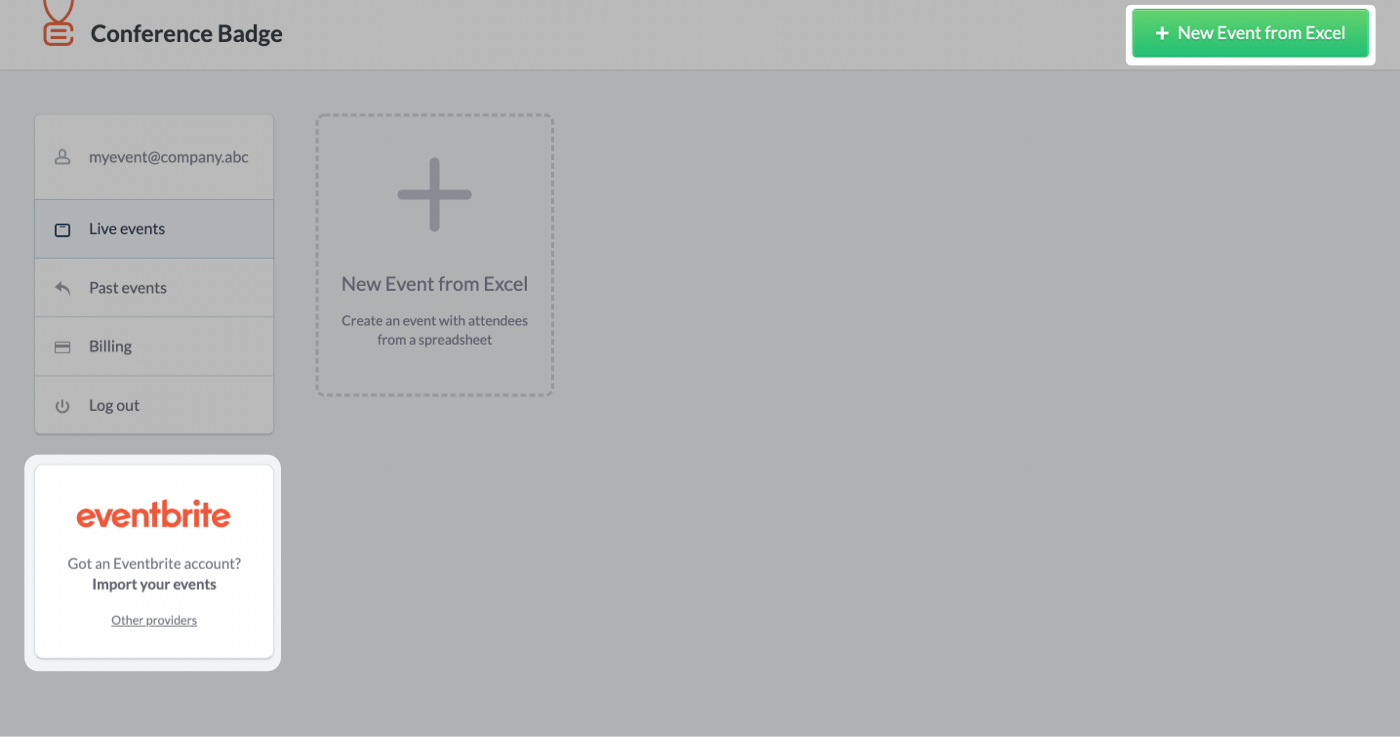 2. Choose the most convenient badge product
You can print the badges yourself beforehand by downloading a PDF document. You will also get access to the print screen, where you can create badges for last-minute attendees and use the on-site badge printing feature to print them on the spot.
The second option is to use our print-and-ship services, which include printing, cutting and assembling into plastic card holders and optional black lanyards. The production time is two business days plus shipping. You can get overnight shipping for a fee, or two business days for free.
Both of these options will get you great-quality badges.
3. Select the badges size and template
Conference badge offer high-quality PDF badges that can be customized to any full-color or black and white format you need. In addition, they provide many different templates in different formats. You can also get custom-sized name badges by clicking on PDF Name badges, entering the desired width and height, and selecting a unit of measurement (inches or cm).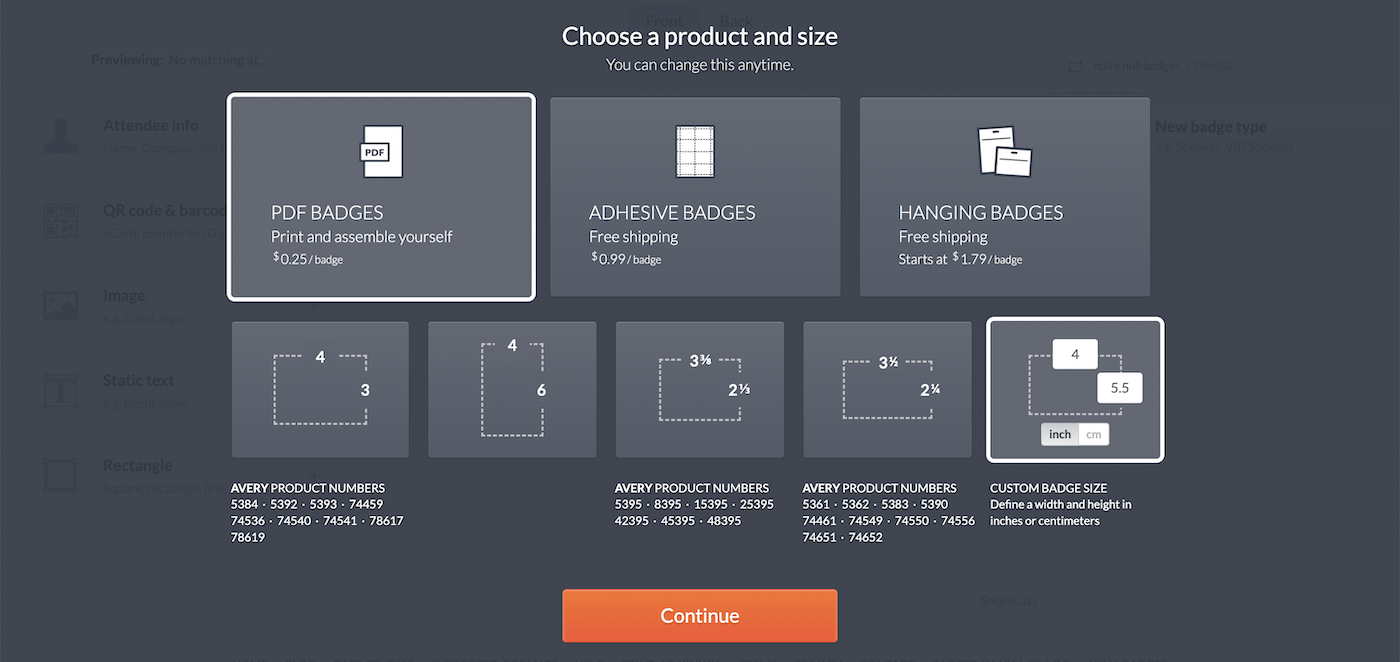 4. Customize the badge design
Conference badge's editor allows you to fully customize the badges, add/delete text, add a QR code, add logos or background images, and change templates, amongst other things.
If you want to create different badges, you don't have to make additional custom orders, as it can all be done under the same one. You must click the 'New badge type' button on the right.