What Are The Different Types Of Event Badges? Which One Should You Use?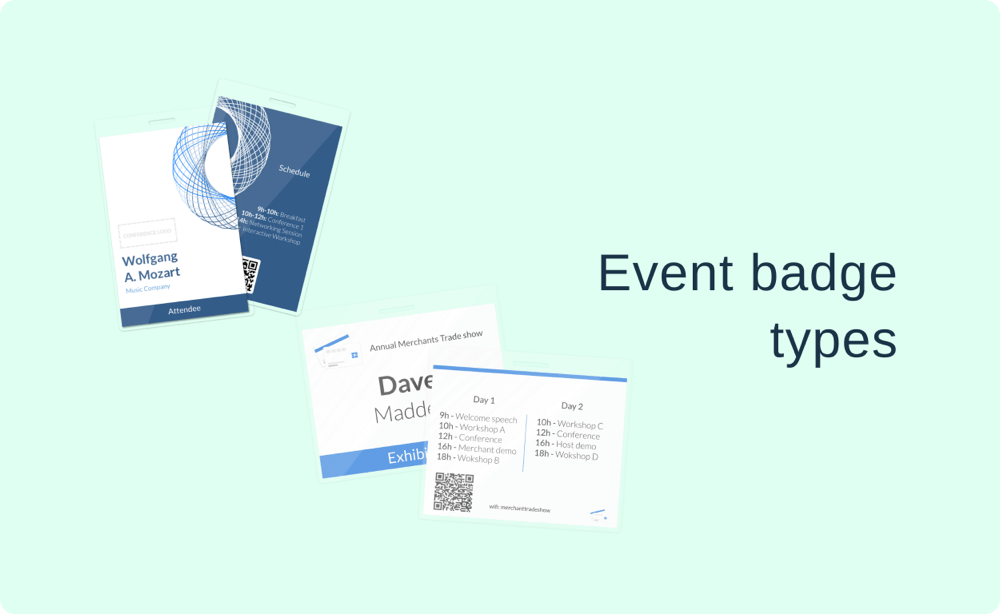 If you're working in the event industry, you need to make tons of different choices daily, from the event location to the menu, which speakers you want to make keynote, the event marketing and much more. Whew!
And it doesn't stop there; if you're reading this, you probably have to choose between all the different formats, sizes, and shapes of event badges before you create them.
We got you!
This short guide will highlight the different types of badges you can create with Conference Badge, the pros and cons, and the price points. We will also discuss the advantages of on-site printing with our kits.
Ready to get started?
Disclaimer
Although your event badges could be in the form of wristbands, business cards, or even electronic, we decided to stick with the formats that Conference Badge offers.
Hanging, Pin, or Clip event badges
This is one of the most common type of badge, and you've most likely already worn one in the past. They can be paper badges inserted in a plastic holder. Their main characteristic is that they can attach to the clothes of the badge holder. Hanging event badges come with a lanyard and are worn around the neck, and a pin badge can easily clip on the clothes. The standard format is 3" X 4", which is relatively small while leaving enough space to add the essential information.
Pros of hanging, pin, or clip event badge:
Easier to wear on all types of clothes
Hard to lose
Can be reusable
Cons of hanging, pin, or clip event badge:
Less eco-friendly (if plastic holder)
Use it for
Any types of conferences
School reunions
Exhibits and trade shows
Conference Badge Pricing:
Printed hanging badges, double-sided, inserted in plastic holders:
3" X 4": $1.99 / badge
6" X 4": $2.29 / badge
Option to add back lanyards for $0.99 each
Adhesive event badge
Adhesive badges can be great when working with tight budgets or short events. With Conference Badge, adhesive badges come in one format, 2.75" X 3.75", and you can still fully customize the badges by adding a logo, colored background, and the attendee's information. Because it acts like a sticker, these badges are for one-time or one-day use only.
Tip
This is the perfect badge for events where people don't have to register fully ahead of time. You could create the badge template by adding only a logo and name of the event and leaving room for people to write their names themselves.
Pros of adhesive event badge:
Easy to handle
Less waste (if 1-day event) and more affordable
Can be customized on-site
Cons of adhesive event badge:
Less sturdy feel
People might not want to stick it on their clothes
One-time use
Use it for
Large gatherings
Annual conferences
Conference Badge Pricing:
Printed & shipped for $0.99 / badge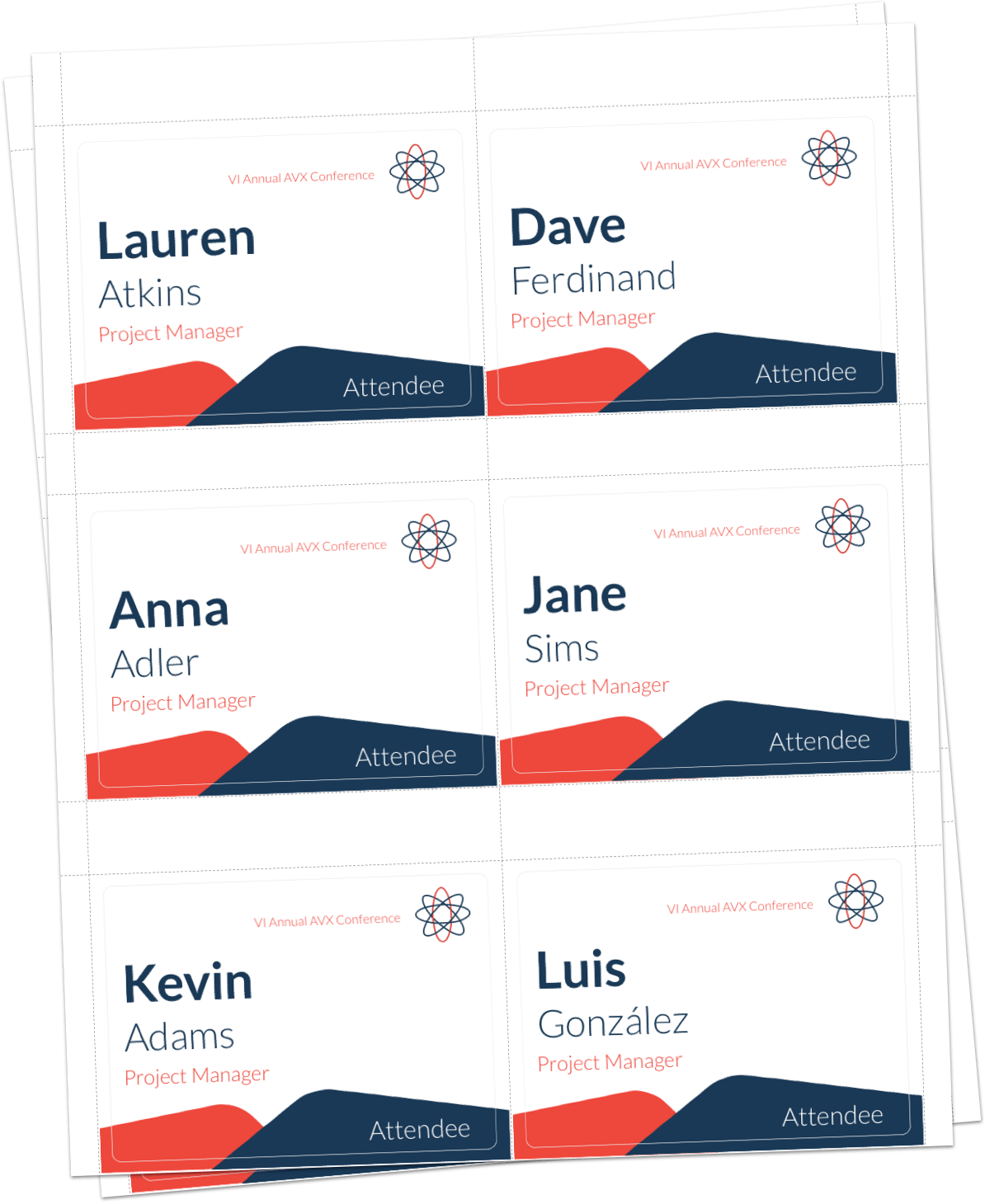 Pin, Clip or Laminated name badge
Laminating name tags refers to the process of coating the surface of paper badges with a layer of protection. They are durable and flexible, and of course, with Conference Badge, the badge design is fully customizable.
Cons of laminated name badge:
More costly
Less eco-friendly (if plastic holder)
Use it for:
Any type of conference
School reunions
Exhibits and trade shows
Custom-sized event badges
This Conference Badge feature allows creators to have total control over the exact format of their badges. Square, rectangle, small, large, huge badge; the opportunities are endless. You can even use this feature for creating tickets, event invitations, special passes, and more.
Advantages of a custom-sized event badge:
Possibilities are endless
Greater creativity
Cons of a custom-sized event badge:
Might not fit in standard plastic badge holder
Use it for
Event tickets
Business cards
VIP badges
Any type of event
Conference Badge Pricing:
Print the generated PDF any badge size: $0.25 / badge
Which one do you need?
Before you decide on which type of badge you need for your event, think about what information you want to put on the tag and the event branding assets you might have to add. This will help you figure out what size or format you need. After all, you should allow enough space on the badge without having to sacrifice crucial information.
For example, for a local tech conference, you want to have some of the following points of information:
Attendees' names
Affiliation/Company Name
Job Position
Attendee status
QR code/barcode
Social media
Sponsor logos
Other logos and/or branding
Your choice also depends on your budget, as having a plastic badge holder or badges laminated might be slightly more expensive, but have better quality.
Take advantage of Conference Badge's On-site Print Kits
While Conference Badge offers a printing and shipping service for most badge types and formats, you can choose to print them yourselves with no hassle. Create high-quality name badges on-site for last-minute attendees to fix typos or to print the entire guest list on demand. You will simply need an internet connection, one of our on-site badge printing kits, and any consumer-grade printer. Our on-site kits include a micro-perforated sheet of paper, plastic holders, and instructions.
We have a selection of standard name badge kits, but you may also set a custom one; this way, you'll have total control over the format of your name badge PDFs.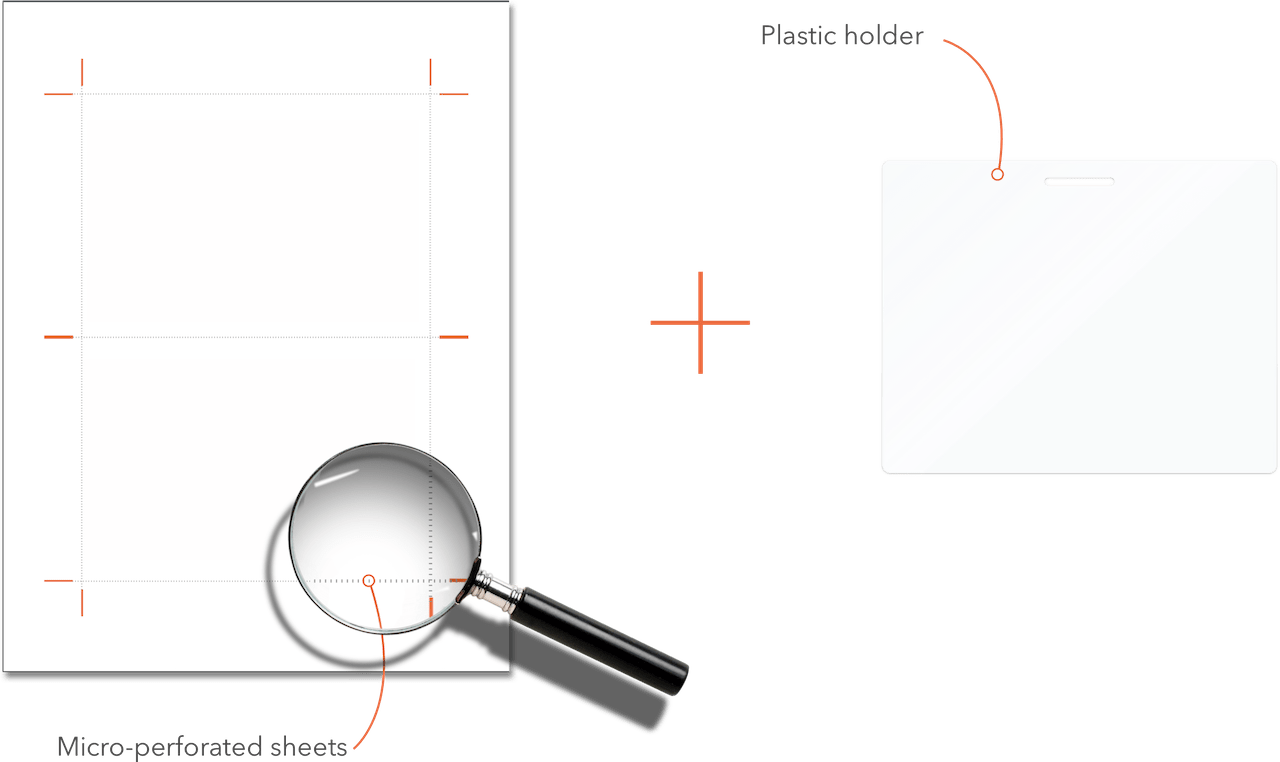 How to create kickass event badges with Conference Badge
Creating perfect event badges only takes four easy steps:
1. Create your free account
2. Select a template (or start from scratch)
Conference Badge offers multiple templates, but you can always start from scratch if you want complete creative control.
3. Import data & design your badges
Import your attendees' information from an Excel spreadsheet, Universe, or Eventbrite if you're using them for your event. This will help facilitate the process, as the variable data is added directly to your badges. Then, customize the badges to your liking and preview them before you check out.
4. Print them yourself or get them shipped in time
Starting from $0.25 per badge, you have the option of printing them yourself. We can also print them for you and send them your way ahead of the event, so you don't have to lift a finger.
Try Conference Badge today!