How To Write A Compelling Event Description That Will Wow Your Guests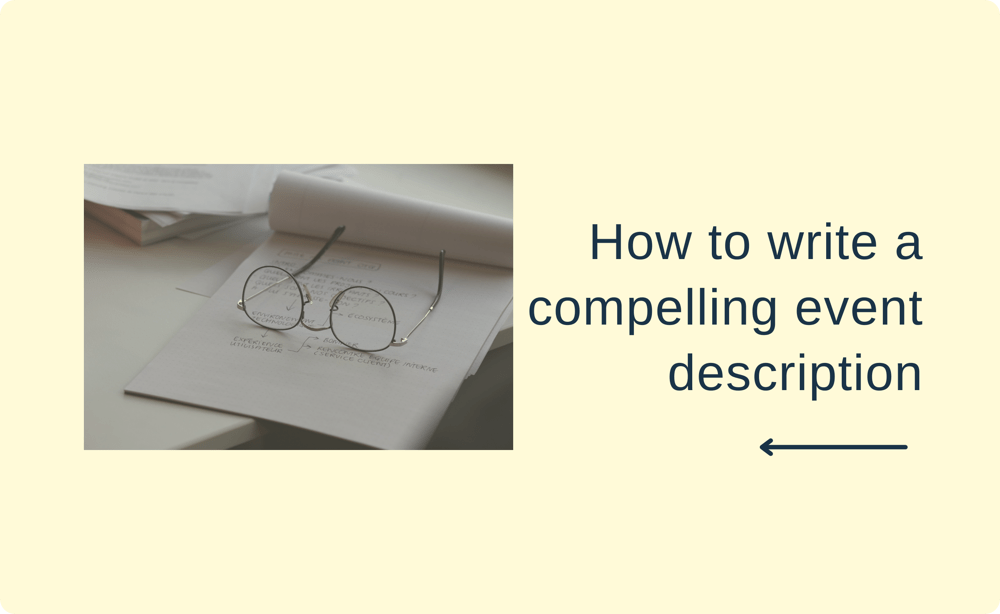 Here's a harsh truth: no matter how awesome you think your event is, no one will know about it if you don't brand, market, and advertise it accordingly.
An essential part of branding your event relies on the words you use to describe it. A good event description can bring awareness and drive event attendance. No worries, you don't need copywriting experience: this short guide offers valuable tips on creating a kickass description for your upcoming event.
What is an event description?
Simply put, a compelling event description should bring valuable information to potential attendees. This valuable information depends on the type of event, your target audience, and other factors.
An event description should include:
Target audience (the target demographics of your event)
Pricing (fee, refund policy)
The location (and whether it's a virtual event or in-person event)
Key features of the event
An event description could include:
Sponsors (or sponsorships opportunities)
Testimonials
FAQ section
Guest speakers or notable attendees
Tips for writing a great event description
If you've been tasked with writing the event description on multiple marketing channels, here are a few tips to optimize the messages and best represent your brand.
1. Determine your objectives and find your voice
Are you hosting a concert or TEDx event in your city, planning a fundraiser, or wanting to bring together students for a field day?
Depending on the type of event, the tone, message, and information you want to convey in your description will vary.
If you don't know where to start, ask yourself these questions:
Who will attend the event?
What is the event's purpose/What do I want my attendees to get out of the event?
Where would your potential attendees find out about the event?
How do you want people to feel when they come across your event brand?
Answering these questions will give you a better general idea of how, what to communicate, and where. For example, if your target audience is college students, you will want to use a friendly, young tone and focus on the fun perks of the event. However, for a more professional summit, you might want to showcase the speakers, the networking opportunities, and the event schedule.
Also, look around for past or similar events and read their descriptions, as they can give you inspiration for your event.
Here's a little more info on crafting the perfect event description:
Event Details
Event Title
Target Group(s)
Proposed by
Hosting Organisation
Event Date(s)
Venue
Amount Requested
Event Description
Provide a brief description of your event. This section provides the reader with a basic overview of what the event is about. Some events do not need much explaining e.g. a national championship, but other events may be new and innovative and require greater description (e.g. an event that serves a special purpose, or a new format for competition, or combines together different community groups).
Your brief description should include:
An overview of the event (include the number of days/hours over which the event will be held, how many participants are expected, the venue for the event and the most important feature of the event)
The objectives of the event (examples: "to develop community awareness of . . . ." or "to raise funds for . . . . " or "to provide access to a higher standard of competition")
The benefits of the event to the organisation, the community and other stakeholders (include such things as the financial benefits, development of expertise, increasing community access to participation, improvement of facilities if any, etc)
Proposed Program
Provide a timetable for the event. It is appreciated that any timetable you provide the reader will likely undergo many adjustments leading up to the event. If the event lasts more than one day, provide a timetable for each day of the event.
Source: © Leo Isaac 2011
2. Make a first good impression
Event planners know that positive first impressions are crucial. Which means a strong, powerful event title is essential. You want to make it memorable and attention-grabbing by using unique, compelling words and avoiding generic terms. Although you want to keep it short, you still want people to read the title and get a general idea of the event's purpose.
3. Vary the structure
This is especially important if your event description is a tad lengthy. To ensure all essential information is correctly conveyed, think about adding bullet points or various text formats like bold, italic, etc.
Adding headers like 'Location,' 'Food,' and 'Pricing' could also be a great idea, as potential attendees could only read the specific information they are looking for. An effective event description should be fun to read, so keep that in mind when writing it!
4. Optimize copy according to the marketing channels
A Facebook event description will differ from an ad or an email blast. And that's why you should create multiple versions of your event description, keeping the most important information in the forefront but optimizing it for different channels.
You want a powerful introduction for an email blast, but it should be short, sweet, and frequent (if you're planning an email sequence). Social media is the best place to get your creative hat out and add emojis, for example. As for an event website, this is where you have the most space to add all information and keywords. Finally, ads should be catchy, short, and straight to the point.
The best way to optimize your time is to create a 'master' event description with as much important information as possible and edit the message according to the channels you will be using as part of your event marketing strategy.
5. Be discoverable
If you want people to find your event, you want to be strategic with your choice of words, as they could discover you on social media, Google, or other event marketing promotion platforms.
If you create an event website or landing page, you want to optimize the SEO (search engine optimization) so you're easily discoverable on Google. You might want to add critical keywords or advertise your event on social media, perhaps on relevant Facebook groups. If you believe in the potential, you could even use influencer marketing to help you get the word out there or create a catchy event hashtag to grab the attention of your community.
Since you're deep into event planning, have you considered creating conference badges for your attendees? Conference Badge is the easiest tool out there, and in just four simple steps, you can create, design, and receive (or print!) your event badges.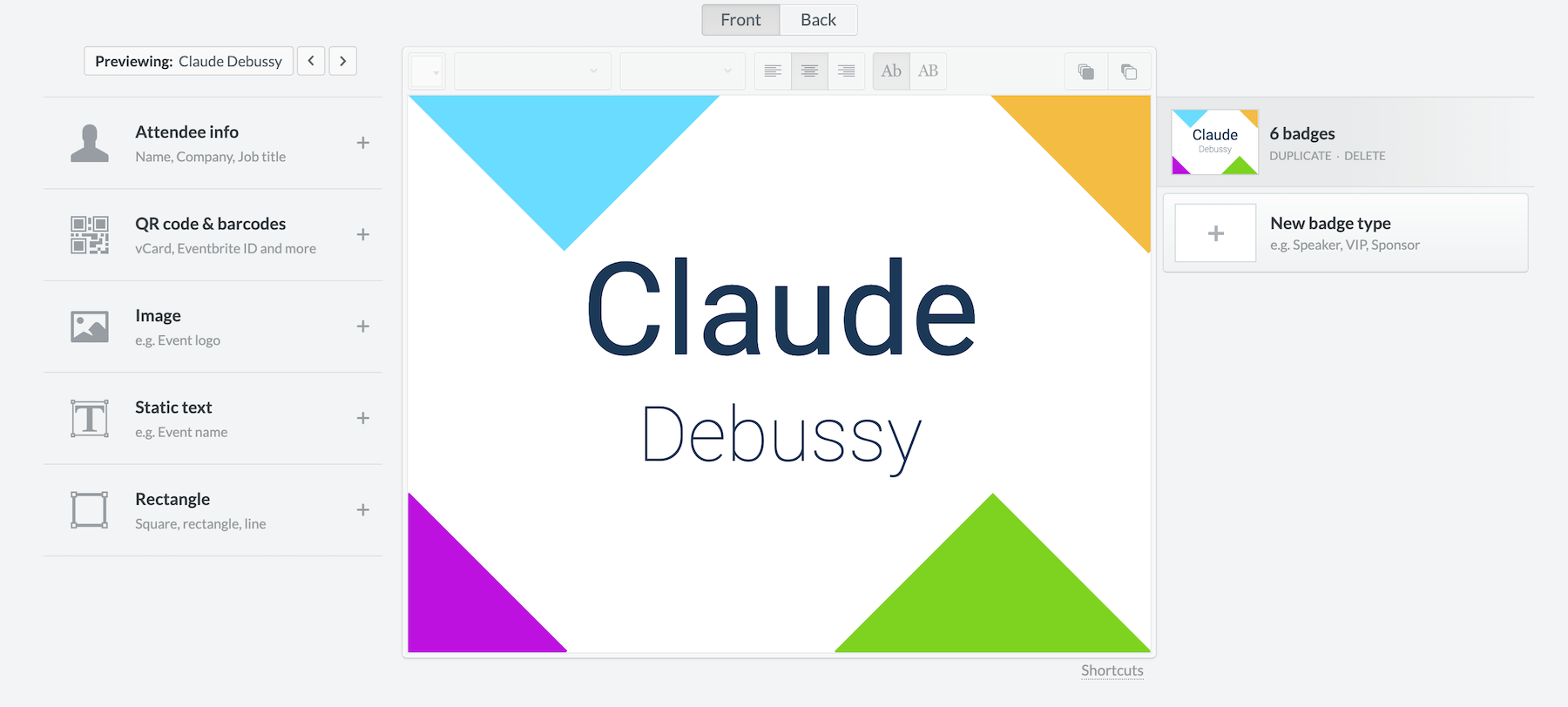 Grab one of our templates and start creating your badges today