How To Create Unique Name Tags For Your Next Event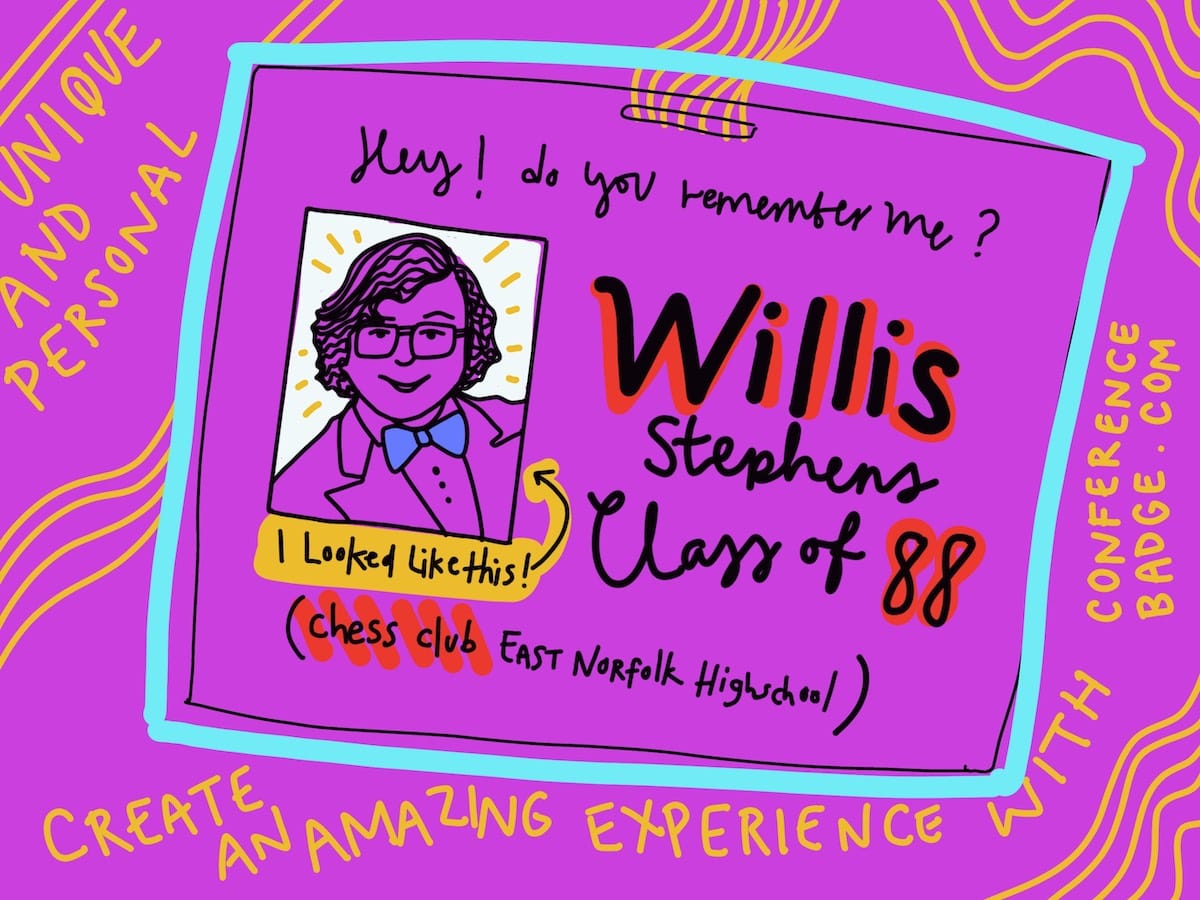 Artwork by Mónica Alexis
In event planning, every detail counts. From the choice of venue to the speakers, the food, and the social interaction opportunities, every element contributes to attendees' overall experience. Conference badges can take center stage among these seemingly minor yet essential details. A well-designed name badge serves its practical purpose while leaving a lasting impression on attendees.
As event planners, you understand the value of making every aspect of your event unique and memorable. Whether you're organizing a corporate conference, a trade show, or a special occasion, knowing how to create unique name tags will elevate your attendees' experience and set the stage for an unforgettable gathering.
Why Unique Designs Matter When Creating Event Badges
First Impressions Count: Your event badge is often the first thing attendees see. A visually appealing and unique badge design sets the tone for the event and leaves a positive first impression, making attendees eager to engage and participate.
Facilitating Networking: Unique badges can include eye-catching elements like QR codes or colorful graphics that spark conversations. This encourages networking and interaction among attendees, fostering valuable connections.
Reflecting Brand Identity: Event badges are an extension of your brand. A customized and unique badge design reinforces your event's brand identity and helps create a cohesive and professional look.
Enhanced Attendee Experience: Creative badge designs add an element of fun and excitement to the event. When attendees receive a badge that's out of the ordinary, it can pique their interest and keep them engaged throughout the event.
Ease of Recognition: A unique badge design can make it easier for event staff to identify attendees quickly. This is especially important for large-scale events where an efficient organization is crucial.
Adaptability: Unique badge designs can be tailored to suit different events. Whether you're organizing a formal conference, a themed party, or a tech expo, a customized badge design can be adapted to match the occasion.
Unique Name Tag Designs Examples and Templates
1. Meta F8 badge
This badge was created for the F8 event; all badges were printed onsite with their information and personalized Facebook Messenger QR code to encourage people to friend the people they meet at the conference.
This design is fantastic because it's designed differently for different types of badges, like for attendees, staff, and press, using different colors. The design is also very bright but minimalist, focusing on the most critical information: photo, name, and title.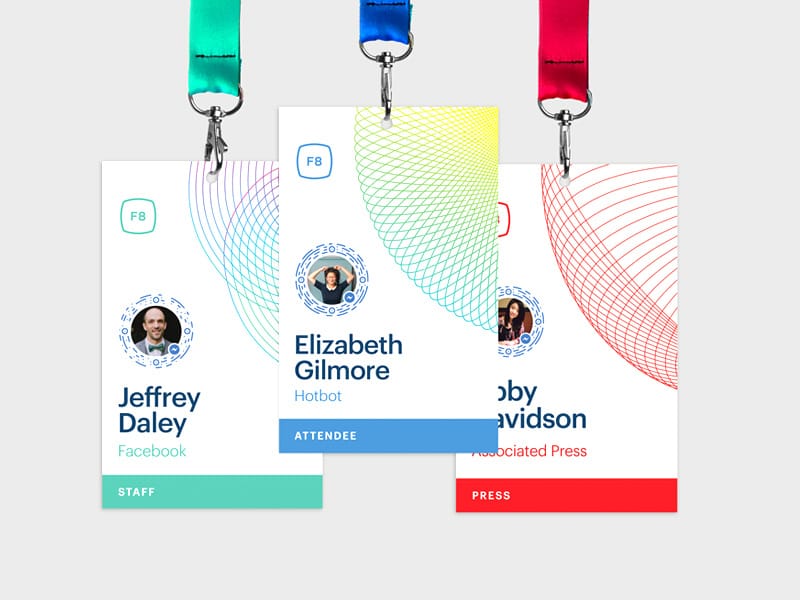 2. Name Badge mockup by Matt Crummy
This is a name badge mockup for a conference branding proposal by Matt Crummy. We love the minimalist design on the front with the entire event schedule on the back. Including a QR code also allows event planners not to put all the information on the badge but to send the badge wearer to a website, social media, or any other link.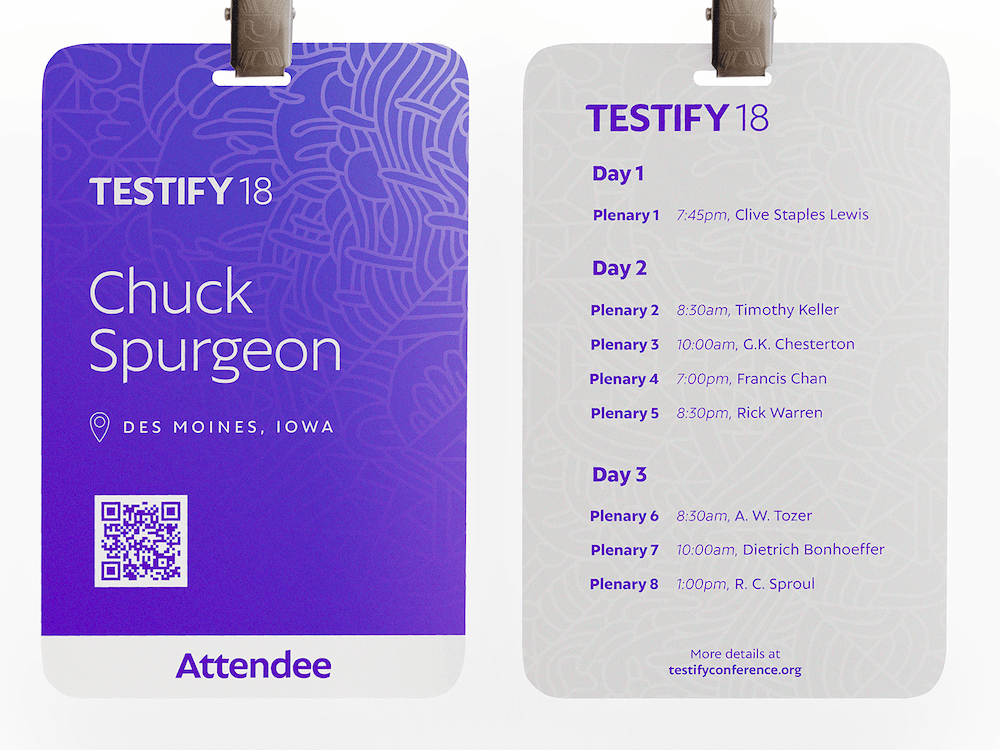 3. Conference Badge template "School event"
Transforming the traditional "Hello, my name is" into a vibrant, engaging Conference Badge template can breathe life into your school-related event. Customize every aspect, from hues to backgrounds, and even incorporate images, sparking creativity in your attendees. These badges can double as photo ID tags, expediting the process of mutual recognition among participants and enhancing the event's dynamism.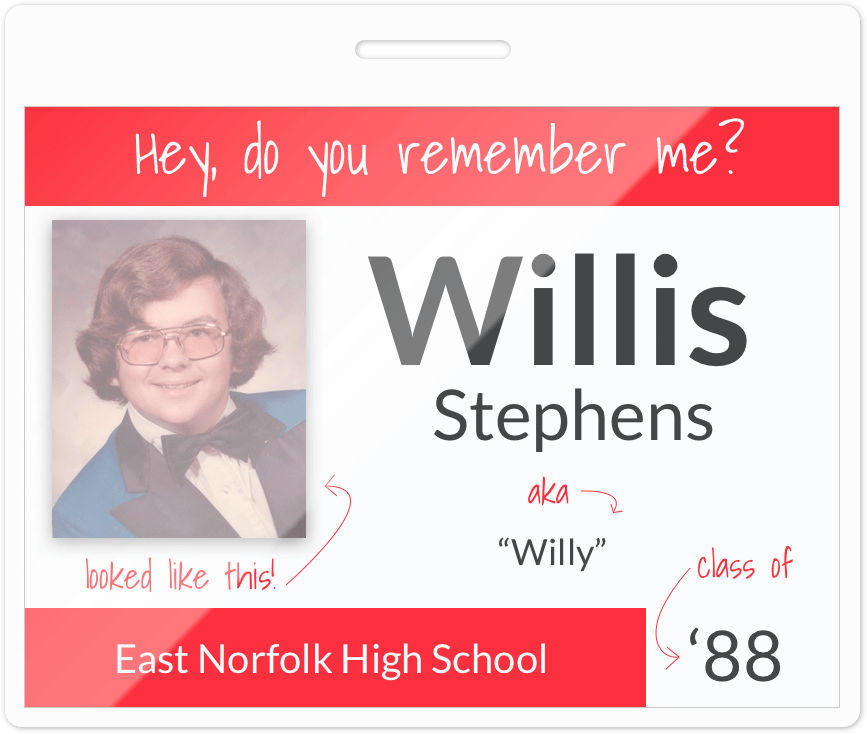 How do you create a unique name badge with Conference Badge?
Let us introduce you to the best name tag creation tool: Conference Badge. Here's how it works.
1. Streamline Attendee Information:
The first step is to create an account and integrate your attendee data. Upon registration, you'll be prompted to upload a spreadsheet or link your Eventbrite account if that's your preferred event-hosting platform. Once connected, all variable data, including names, business affiliations, and job titles, will be added to the badges.
2. Badge Flexibility
We understand that badge preferences can vary at Conference Badge. That's why we offer two convenient options to suit your needs. You have the freedom to preprint badges by downloading a PDF document. Additionally, our user-friendly print screen feature enables on-the-fly badge creation for last-minute attendees, with the advantage of instant on-site badge printing.
Alternatively, you can opt for our hassle-free print-and-ship services. This package includes professional printing, cutting, and assembly into plastic card holders, complete with optional sleek black lanyards. Production typically takes just two business days, with the option of expedited overnight shipping for a nominal fee or standard two-business-day shipping at no extra cost. Rest assured, both choices guarantee top-notch badge quality.
3. Size and Template Selection Made Easy
Conference Badge offers a diverse range of high-quality PDF badge templates that can be effortlessly tailored to meet your full-color or black-and-white requirements. Our template library boasts various formats to accommodate your preferences. Moreover, you can easily create custom-sized name badges by specifying your desired width and height, along with your preferred unit of measurement.
4. Crafting Unique Badge Designs
You have complete control to modify your badges, whether adding or removing text, incorporating QR codes, introducing logos or background imagery, or switching templates. If you aim for diverse badges, navigating complex ordering processes is unnecessary. It's all seamlessly managed within the same order. Simply click the 'New badge type' button on the right, and your customization options will multiply, allowing you to tailor badges to your heart's content.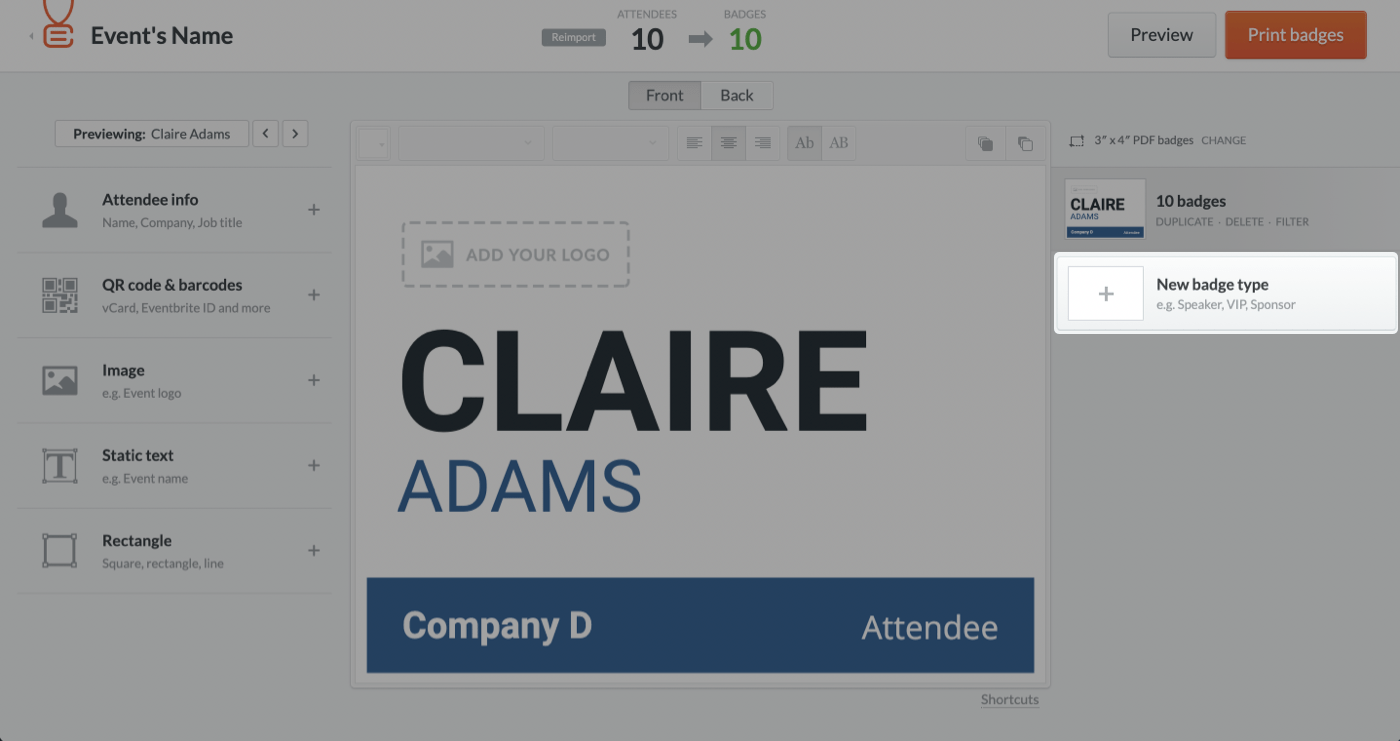 In conclusion, designing your event badges is a detail that can't be overlooked. It's a powerful tool that can impact attendee engagement, brand perception, and overall event experience.
With the right badge design, you can leave a lasting impression on your attendees and make your event an unforgettable success.
Happy planning 🙂