A Guide To Event Badge Design Maximizing Functionality And Aesthetics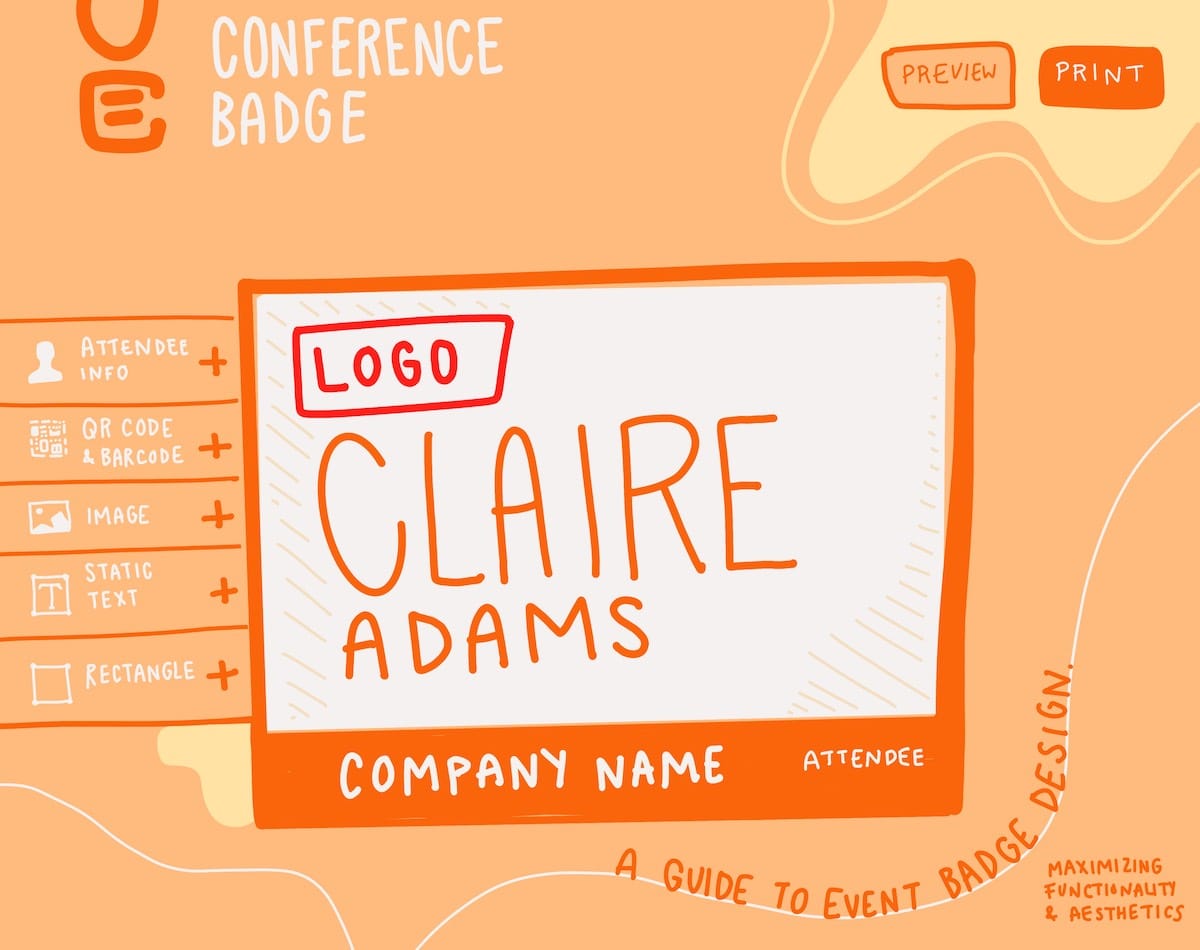 Artwork by Mónica Alexis
As event planners, understanding the impact of a thoughtfully designed badge is crucial. Organizations can reinforce their event branding with a visually appealing and functional badge while helping facilitate networking opportunities.
This article dives into the pillars of badge design you need to know before creating your event name badges.
What are event badges?
Conference badges are identification name tags worn by attendees, staff, speakers, exhibitors, and other participants during a conference or other type of event. These badges serve several purposes in the conference setting, including:
Identification: Conference badges provide a means of identifying individuals and their roles during the event. They typically include the attendee's name, organization or affiliation, and job title or role.
Access Control: Badges often serve as access control, giving entry to specific areas or sessions within the conference. Different badge types may indicate different levels of access, such as general attendee badges, speaker badges, exhibitor badges, or VIP badges.
Networking: ID Badges can facilitate networking by providing valuable information about the attendees. In addition to the basic identification details, these badges act as a business card and may include contact information such as email addresses, phone numbers, or social media handles.
Conference badges are essential in facilitating communication, networking, and event organization. But they don't serve their full purpose if not designed well. This next section highlights the top pillars of event badge design.
Key Elements of Event Badge Design
When it comes to event badge design, these key pillars form the foundation of a successful badge:
1. Functionality
A functional name badge is a badge that effectively serves its primary purpose: to enable attendees, staff, speakers, and exhibitors to identify one another and establish connections quickly. In addition to identification, event badges are crucial in access control. Name badges must be designed with practicality and usability, ensuring they are easy to wear, comfortable, and durable throughout the event.
2. Branding
A well-designed badge should align with the event's branding and visual identity. Incorporate the event logo, colors, fonts, and overall theme to reinforce brand recognition and create a cohesive attendee experience. Consistency in branding across various event materials enhances professionalism and promotes event recognition.
3. Information Hierarchy
The information displayed on the badge should be organized clearly and hierarchically. Attendee names, organizations, and roles are typically the primary details, while additional information like contact details or QR codes/barcodes can be included. Use font sizes, colors, and positioning to emphasize critical details and ensure legibility. Strive for simplicity and avoid overwhelming the badge with excessive information that might detract from its overall impact.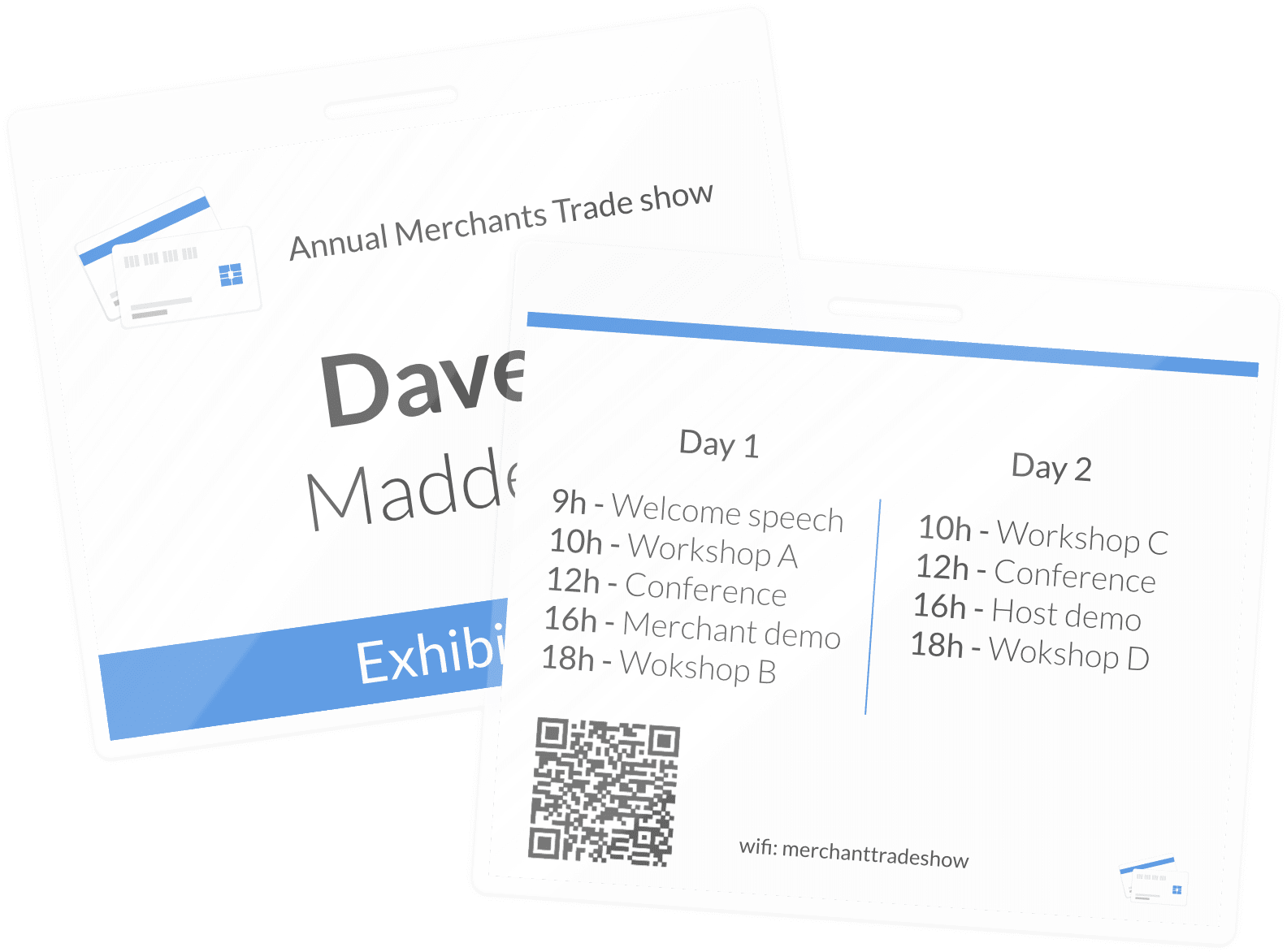 4. Design and layout
With thoughtful badge design, you have the power to elevate the overall attendee experience. The visual design and layout of the badge should be aesthetically appealing and well-organized. Choose clear and easily readable fonts from a distance, and use whitespace and alignment to create a balanced and visually pleasing composition. Avoid overwhelming the badge with excessive visuals or cluttered design elements.
To effectively incorporate branding elements, find a balance between clarity and creativity. Ensure the badge design aligns with the event's tone and style while maintaining legibility and professionalism. Experiment with color schemes, typography, and graphic elements to infuse the badge with the event's unique personality.
Regarding event badge design, the format and size are crucial in determining visibility and functionality. The choice of badge formats, such as lanyards, clips, or wristbands, should align with the event's nature and attendee preferences. For instance, lanyards offer convenience and visibility, while clips provide versatility for attaching badges to clothing. Wristbands are ideal for events where continuous access control is necessary.
5. Customization and Personalization
Personalization enhances the attendee experience and fosters a sense of connection. Add variable data printing to customize badges with individual attendee information such as names, affiliations, or photos. Designing for different attendee categories, such as speakers or VIPs, adds a layer of personalization and recognition. Consider the diverse materials and badge printing techniques available.
By focusing on these pillars of event badge design—functionality, branding, information hierarchy, design and layout, and customization—you can create badges that are not only visually appealing but also functional, representative of your event's brand, and meaningful to attendees.
Create custom event badges with Conference Badge
Now that you have learned about the pillars of event badge design let us introduce you to the best tool: Conference Badge.
In 4 simple steps, you can create, design, and receive (or print!) your event badges.
1. Sign up and import attendee information
Get started by creating an account. During registration, you can upload a spreadsheet or seamlessly connect your Eventbrite account using their event management platform. By doing so, the attendee details, such as names, business names, and job titles, will be automatically imported.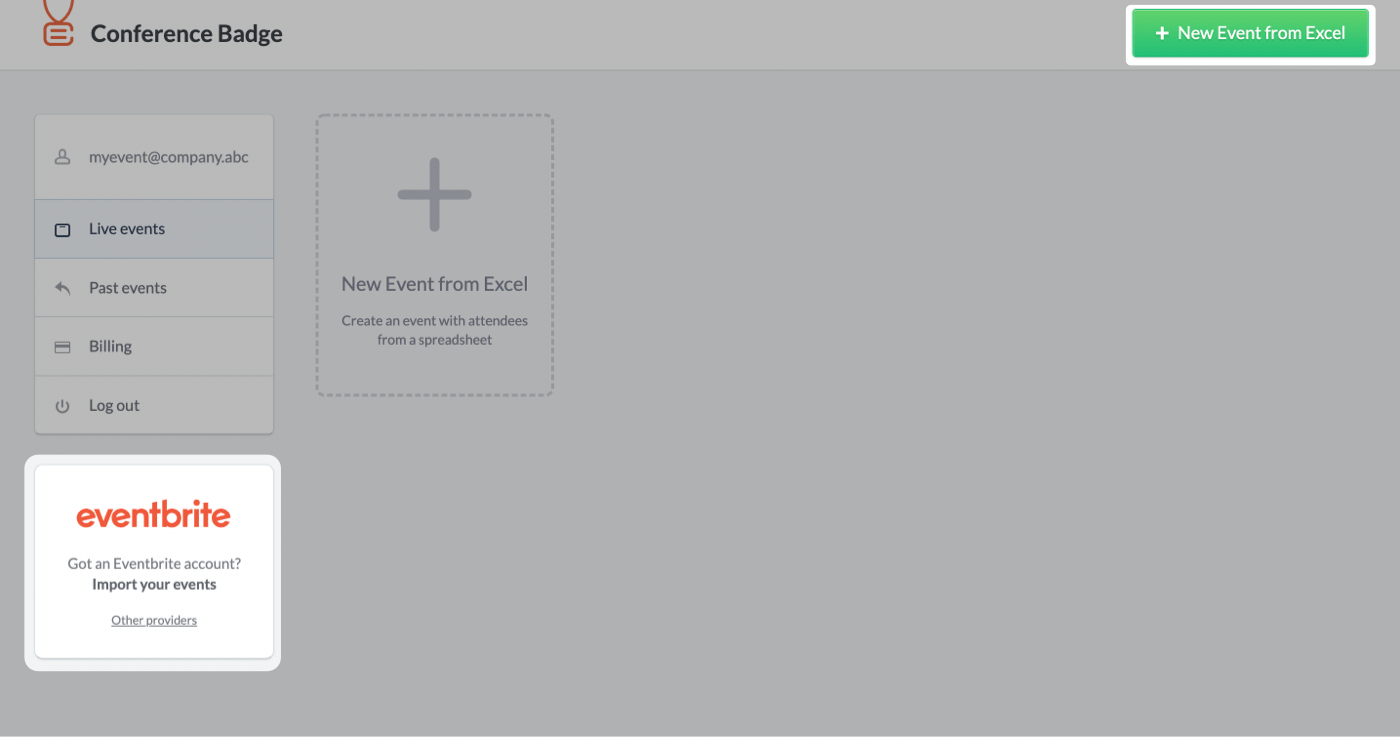 2. Choose the most convenient badge product
Conference Badge offers two convenient options for obtaining your badges. Choose the method that best aligns with your requirements and preferences.
Option 1- Self-Printing: You can download a PDF document containing your badge designs for ultimate convenience. With this option, you can print the badges yourself before the event. Additionally, our intuitive print screen allows you to swiftly create badges for any last-minute attendees and print them instantly on-site. This eliminates the need for pre-printing a large batch of badges.
Option 2 - Print-and-Ship Services: Our services are ideal if you prefer a hassle-free approach. We handle the production process, including printing, cutting, and assembling the badges into plastic card holders. Optional black lanyards can also be included.
3. Select the size and template of the badge
Conference Badge offers high-quality PDF badges that can be effortlessly customized to your desired specifications, whether it's a full-color or black-and-white format. Moreover, we provide various diverse badge templates available in various formats. If you require custom-sized conference name badges, navigate to the PDF Name Badges section, where you can input the desired width and height and select your preferred unit of measurement (inches or centimeters).
4. Customize the badge design
With Conference Badge's user-friendly editor, you have complete control over customizing your badges. Modify text elements, add or delete text as needed, incorporate QR codes for seamless digital connections, include logos or background images to enhance branding, and switch between templates to find the perfect fit.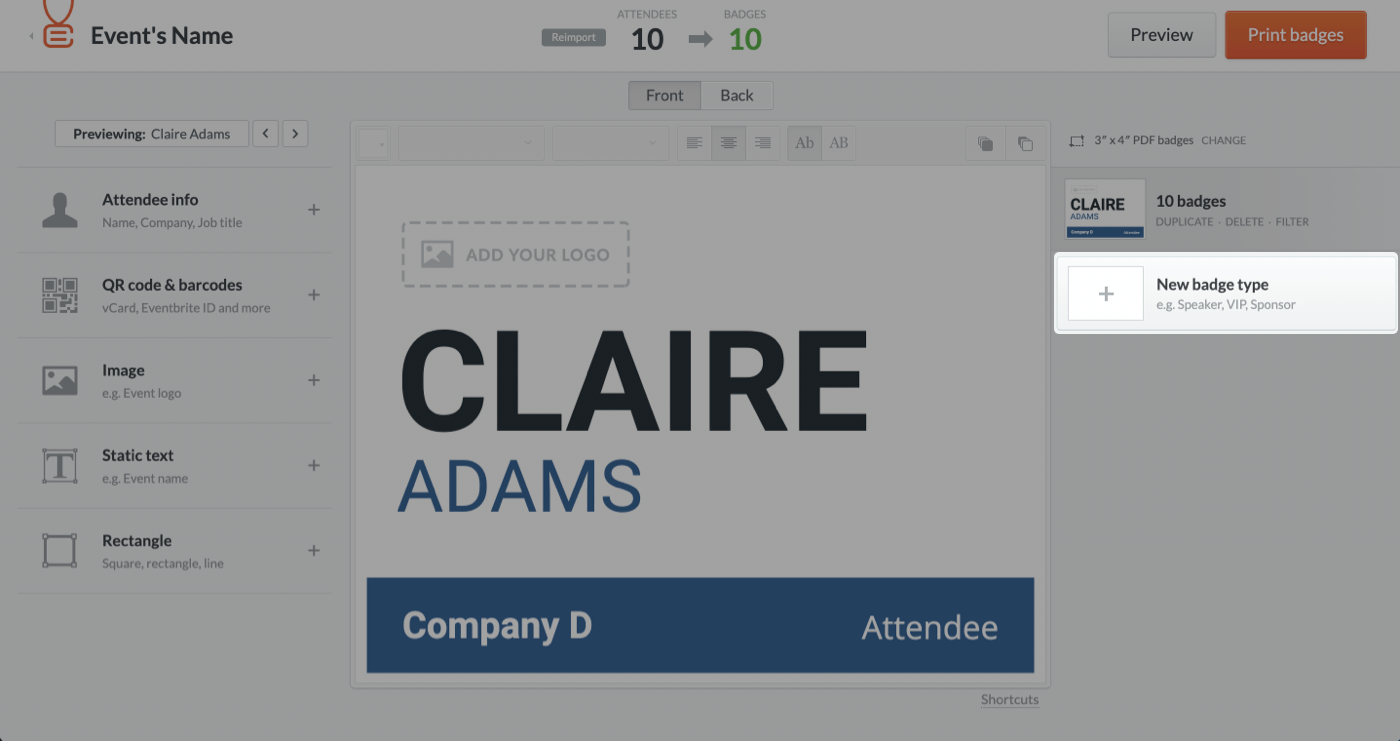 What's more, there's no need to place separate custom orders if you wish to create various types of badges. You can effortlessly manage all badge variations under a single order.
Simply click the 'New badge type' button on the right side of the interface, allowing you to handle multiple badge types within the same order efficiently.
Conference Badge offers an easy-to-use badge creator to take your event to the next level.